When a MacBook won't charge, there are several possible reasons - broken chargers, outdated software, or even routine servicing requirements. Thankfully, it's easy to determine why your MacBook battery is not charging and get it to work again.
Before we start


Managing your Mac's disk space is essential to maintain battery life. Junk, file duplicates, and the cache can make your Mac work a lot harder than it should.


Download MacKeeper to ensure a healthier battery life for your Mac.
Ten most common reasons why your MacBook won't charge:
1. Recall notices for MacBook battery problems
In 2019, Apple recalled several MacBook models released from 2015 to 2017 due to battery issues. If your MacBook was one of these models found to be at risk of a defect, you are eligible for a free battery replacement.
To check if your MacBook was included in the recall, go to Apple Service Program and key in your MacBook Serial Number. If your MacBook model was affected, a message should appear to recommend that you contact Apple Support to schedule a replacement.
2. No power source
Before you can diagnose why your MacBook won't turn on, start by testing if the outlet you are using has electricity. To do this, try plugging another device into the outlet to confirm before testing your MacBook and charger. If you find that the outlet does not work, find a different one to plug for charging.
3. Charging cable damage
If you think your MacBook charging cable is not working, inspect it for physical defects like exposed wires, broken plugs, or extreme bends. While it is possible for MacBook chargers to work with a few damages, it can cause issues with charging stability and safety. If you notice that your MacBook charger cable wires are exposed, cover them with electric tape, heat shrink, or Sugru, before attempting to plug it into an outlet.
4. Dirty charging ports
Another reason why your MacBook is not charging is a blocked charging port. One way to resolve it is by cleaning the MagSafe or USB port using compressed air to blow out the dirt and debris. Alternatively, you may also use a plastic dental pick, cotton buds, or a soft bristle toothbrush.
5. Defective AC plug
Should your MacBook charger not indicate electricity running through it, this may be due to a defective AC plug. All MacBook chargers come with removable AC plugs, so you can use one from another charger or an Apple Power Adapter Extension Cable to see if that's the cause.
6. Poor charger ventilation
The MacBook Air USB-C power adapter is known to generate heat when charging. When placed in an insulated area, it can become too warm and turn off automatically. To keep your MacBook charging for longer, keep your power adapter cool by not putting it under piles of clothes or on top of bed sheets.
7. Outlet line noise
If you find that your charger turns off after a few minutes plugged into your MacBook, it may be due to line noise from an outlet. MacBook chargers have built-in voltage protection mechanisms that may cause electromagnetic-related disruptions. To avoid this, simply plug your charger into another outlet that is connected to a different circuit.
8. Poor battery condition
Like any battery-powered device, MacBook battery life will degrade naturally after several years of use. To do a MacBook battery diagnostic test, click the battery icon on your menu bar. If the dropdown menu contains the Service Recommended notification, it's time to replace the battery.
Alternatively, you may also do the following steps:
On the menu bar, click the Apple icon while pressing the Option key
Select System Information
Under Hardware, click Power
Check the Condition
Under Condition, there are three possible statuses for your battery capacity – Normal, Replace Soon, Replace Now, and Service Battery. If your MacBook battery status is anything other than "normal", schedule a repair or replacement as soon as possible.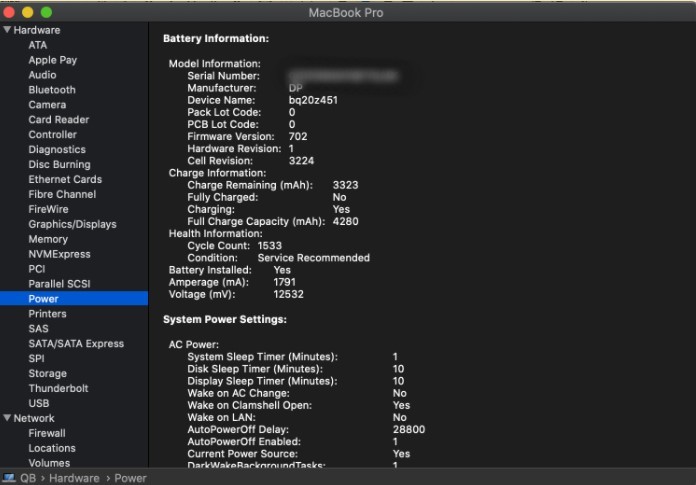 9. Requires battery reset
The power function of every MacBook is controlled by the System Management Controller (SMC). If you've found nothing wrong with your charger and charging port, it may just be that your MacBook needs a reset.
Here is how to do an SMC reset for a MacBook with removable batteries released earlier than mid-2009:
Shut down your MacBook
Unplug your MacBook charger
Remove your battery
Press the Power button for a few seconds
Re-attach your battery
Plug in Your MacBook charger
Press the Power button to turn on your MacBook
To reset your MacBook with a non-removable battery through the SMC reset, follow these steps:
Shut down your MacBook Pro or Air
Unplug your MacBook charger
After a few seconds, re-connect the MacBook charger to the outlet
Press the Power button while holding down the Control + Shift + Option keys for at least ten seconds
Turn on your MacBook again using the Power button
10. Pending software update
If none of the other methods from above work, your MacBook may not be charging due to outdated software. To resolve this, simply update your MacBook by clicking the Apple > System Preferences and then Software Update.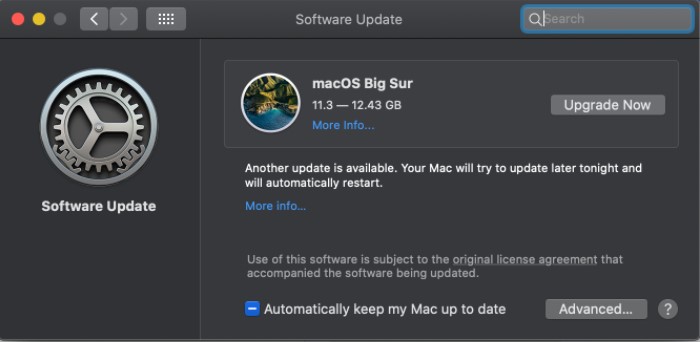 Schedule a Repair
Unfortunately, some issues can't be resolved at home. However, Apple makes it easy to schedule a repair for your MacBook or charger.
If you need to repair your MacBook or charger, here's how you can do it:
Go to Apple Support
Click Mac
Select Startup or Power
Choose to Bring in for Repair
Log in with Your Apple ID
Type Your Location
Choose Your Available Schedule and Authorized Repair Center
Select Your Preferred Time Slot
Confirm Your Reservation
Made from Lithium-ion, MacBook batteries are fast-charging and often long-lasting. However, its longevity is also dependent on how well you take care of it. For example, it's best not to leave your MacBook batteries uncharged for too long as this causes stress on the battery and may lead it to fail. Apple also has a variety of built-in battery health management features that you should maximize to keep your MacBook battery healthy for longer.
Read more: