Webcams have become an everyday part of life in recent times. You use them when working from home. You use them when you're talking to friends and family. So when your Mac camera isn't working, it can be a major hassle.
Luckily, it's usually a problem that's easily fixed — both for built-in and external cameras.
Something you should know

Sometimes, problems with your Mac's camera can be caused by login items - some of which may be hidden. MacKeeper makes it easy to find and remove them.

Start MacKeeper, then select Login Items

Click Start scan

Look through the login items, and select anything that might be using your Mac's camera

Click Remove selected

That's not all MacKeeper can do. Download it now, and see for yourself. You get one free fix, so give it a whirl
Fixes for a Mac camera that's not working include:
What kind of Mac camera problems are there?
The most common issues with Mac cameras are related to video quality — things like blurry images, choppy frame-rates and on-screen artifacts.
But in the worst cases, you may find your Mac doesn't recognize your webcam at all. And then you get the dreaded "There is no connected camera" error.
Following the steps in this guide, you can fix problems of either kind. So you can get back to your important video calls without disruption.
Check external Mac camera connections
If you have an external camera connected to your Mac, there might be a physical problem with that connection. There are few things you should check.
How to check an external Mac webcam connection:
Make sure the cable and the port are clean and not covered with dust — these can interfere with the connection
Make sure the cable fits tightly when you insert it
If your Mac camera isn't instantly recognized, try plugging it into a different port
If you're using a non-Apple camera, check you have all the relevant software installed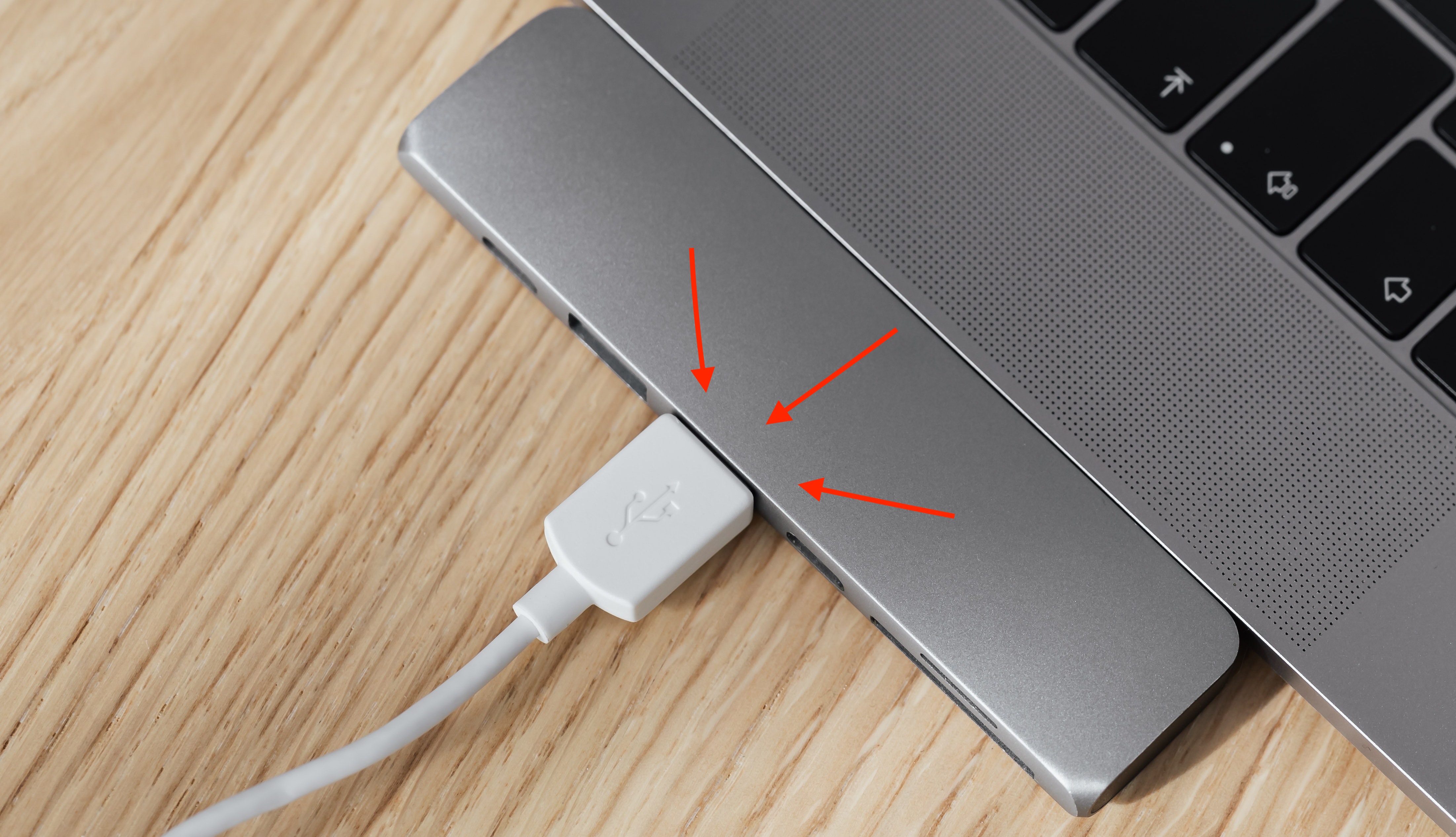 Manually start your Mac camera using Terminal
Cameras on Apple devices like MacBook Pros, MacBook Airs, and iMacs can't usually be turned on manually. It just happens automatically when you open an application that uses the webcam — like FaceTime or Photo Booth, for example. But if that doesn't happen, you might be able to restart your Mac camera manually via Terminal.
How to use Terminal to restart your Mac camera:
1. To open Terminal, go to Applications > Utilities > Terminal in Finder

2. Type in the command sudo killall VDCAssistant and press Enter. This command force-quits all applications that use the camera and resets it

3. Enter your password in the pop-up window

4. Open FaceTime again — the camera should now be working
Restart your Mac in safe mode
Sometimes, just restarting your Mac is enough to fix problems with its camera. That can close down apps that are controlling it in the background, stopping you from using it elsewhere. But if that doesn't work, you can also restart your Mac in safe mode.
In safe mode, your Mac will start up with only the essential apps and processes it needs to run. If the camera works in safe mode, then your problem is likely caused by third-party software.
To launch your Mac in safe mode, restart it, and hold Shift as it's booting. When the login screen appears, you should see Safe Boot written in the top right.
To learn more about this, read our full guide to safe mode for Macs.
This process is different for Macs that use Apple's new M1 processors.
Here's how to start an M1 Mac in safe mode:
Turn off your Mac
Hold down the power button until you see startup options
Select your Mac's startup drive
Hold Shift, and then select Continue in Safe Mode
Let go of the Shift key, and your Mac will log into safe mode
Make sure you're connected to the internet
It seems obvious, but problems with poor quality in video calls might just be down to your internet connection. If it's bad enough, your software might completely lose the connection to your Mac camera.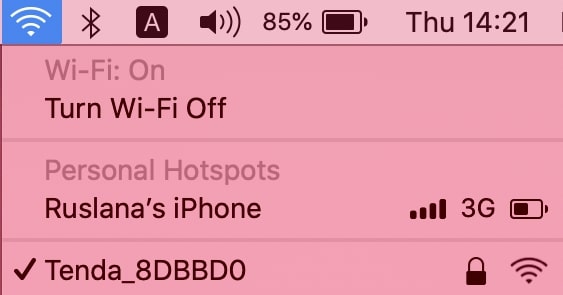 When that happens, you need to work out a way to speed up your internet connection. Common fixes include reconnecting to Wi-Fi, restarting your router and using an Ethernet connection.
Check the settings of the app you're using
Whether you're using FaceTime, Zoom, Skype or any other video calling app, it will have its own preferences page. When you're having problems with your Mac webcam, it's a good idea to dig into these to see if it's enabled. This is particularly true if your camera works in some apps but not others.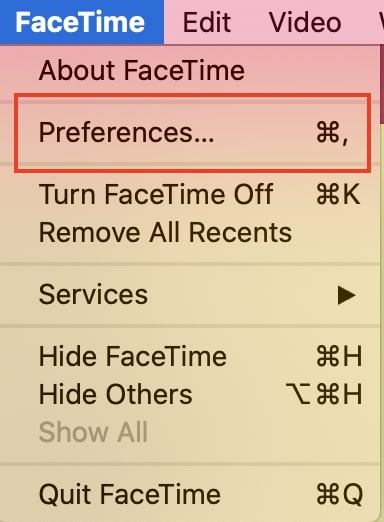 Quit other apps that may be using the camera
Only one app at a time can use your Mac's camera. If you try to use it with multiple apps simultaneously, you'll be denied permission. Sometimes, though, it's not always obvious what's using your camera. With Apple's own iSight cameras, you'll see a green light on it to tell you it's in use — but that's the only clue it will give you.
How to check what's using your Mac camera:
1. Look in the Dock for any apps that you know might potentially use it — things like Skype, FaceTime, PhotoBooth or your browser

2. Open the Activity Monitor app from Applications > Utilities > Activity Monitor

3. In the Dock and in Activity Monitor, quit any apps that might be using your Mac camera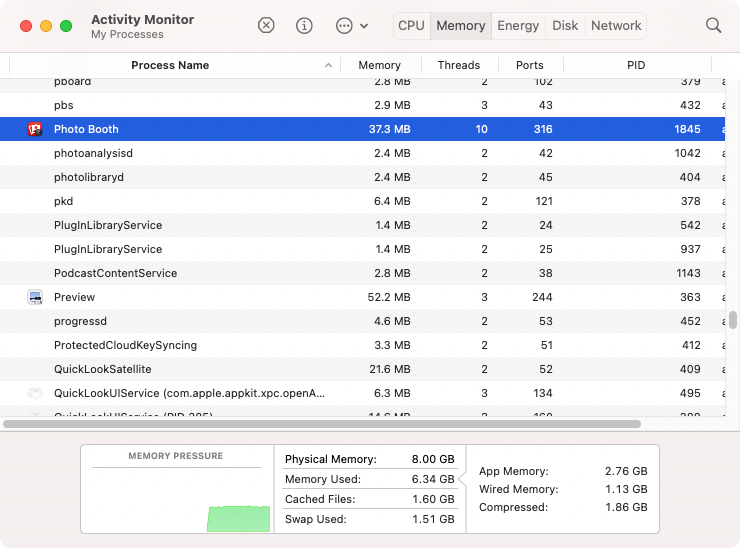 Reset your Mac's SMC
The System Management Controller controls low-level functions of your Mac, like the cooling fans and batteries. It also regulates the built-in iSight cameras in iMacs and MacBooks. If your camera isn't working, it could be fixed by resetting the SMC.
To reset the SMC in early Macs, make sure your laptop is connected to a power source, and shut it down. When it's completely off, hold the Shift + Control + Option + Power buttons until your Mac reboots.
If you own a newer Mac with a T2 security chip (2018 and later), the process is a bit different:
Shut down your Mac
When it's fully off, hold the power button for 10 seconds
Release the power button and, after a while, turn your Mac back on
Shut down your Mac again
Hold Shift + Control + Option for seven seconds
After seven seconds, add the power button to the combination and hold for a further seven seconds
Release all the keys and, after a few seconds, turn your Mac back on.
Run the Apple hardware test
If your Mac camera's hardware is damaged, you may be able to detect that with the built-in Apple Diagnostics tool. This enables an accurate self-diagnosis of any internal hardware issues with your Mac. Note, in pre-2012 Macs, it's called the Apple Hardware Test, and it runs slightly differently.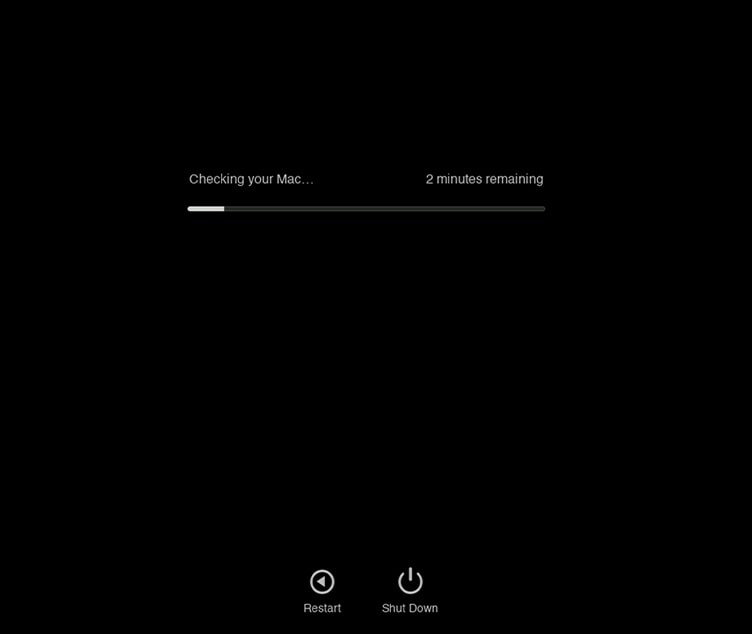 To run Apple Diagnostics (in post-2013 Macs):
Disconnect any devices such as headphones, disks, ethernet cable and so on
Restart your Mac. While it's booting, hold the D key and wait for a screen offering you different language options
Select your preferred language, and wait for automatic completion of the test
Look out for the following codes to identify an issue with the camera: NDC001, NDC003, NDC004, NDC005, NDC006
If you see a code like that, take your Mac to a service center to see what support is available
Reset your Mac's NVRAM
Non-volatile random access memory (NVRAM) stores local settings such as audio volume and kernel panic information. It's why your volume stays the same when you restart your computer. NVRAM also stores some camera settings, so resetting it can help when your MacBook camera isn't connected.
How to reset NVRAM on a Mac:
Shut down your Mac
Turn it back on, and while it's booting, hold Option + Command + P + R
3. After about 20 seconds, you'll hear two startup sounds. Release the keys after the second one
4. On Macs with a T2 security chip, release the keys after you see the Apple logo appear for the second time
Evaluate system updates
Software updates can be something of a double-edged sword. On the one hand, not updating macOS can lead to problems. But on the other hand, those very same updates can be what causes those issues in the first place. And that includes problems with your Mac's webcam.
Updating your Mac's operating system is crucial, mainly for security reasons. But you might also run into problems when an app is updated and no longer runs on older versions of macOS. And it works the other way too: if you update macOS, you might need to update your apps as well.
The bottom line is you should keep all apps and macOS up to date to make sure it works smoothly.
To update macOS, go to System Preferences, and select Software Update. If an upgrade is available, you'll see a corresponding button.

To check for any updates available for applications, go to the App Store and click on Updates in the sidebar on the left. Anything that needs upgrading will display a prompting button.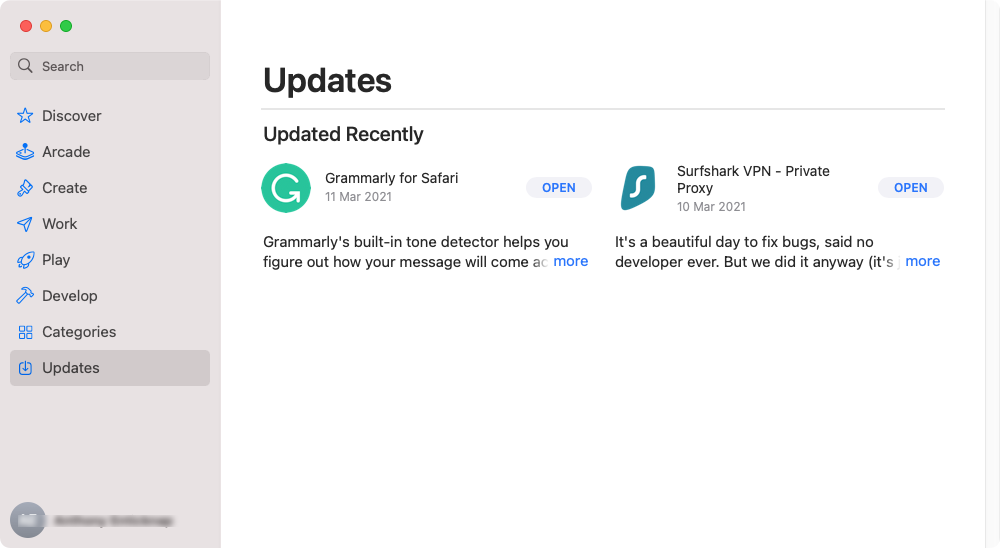 Scan your Mac for malware
If nothing fixes your Mac camera, you might have a malware infection. Malware can deliberately disable your camera, but it might also happen as an unintended side effect. Either way, it's not something you want.
Look in the macOS Activity Monitor, and see if there's anything there using your Mac's memory or processor heavily. If there is and you don't recognise it, it could be malware. It's a good idea to Google anything that looks suspicious to see what it is.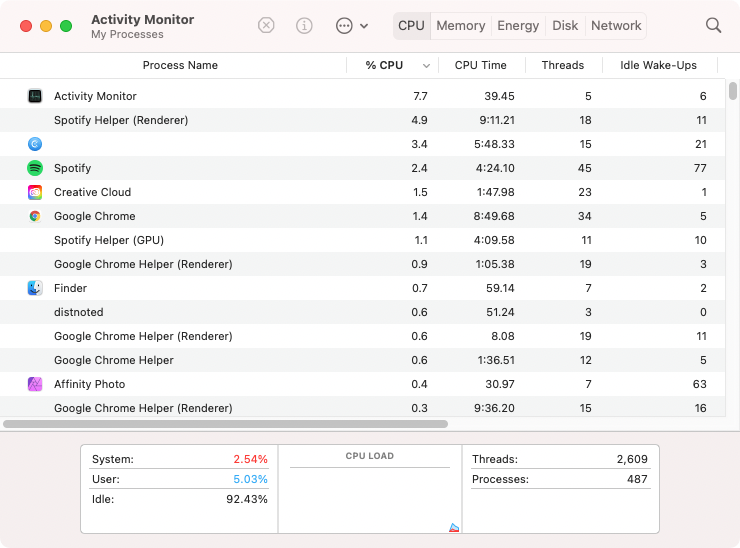 Unfortunately, stopping malicious processes in the Activity Monitor isn't enough. They'll just start up again. And deleting the source file probably won't work either. When malware gets into your Mac, it can spread throughout the whole system, getting itself into places that are hard to find.
That's why antivirus applications like MacKeeper are so important. They seek out all files associated with malware and remove them from your Mac — a process that would be practically impossible to do manually.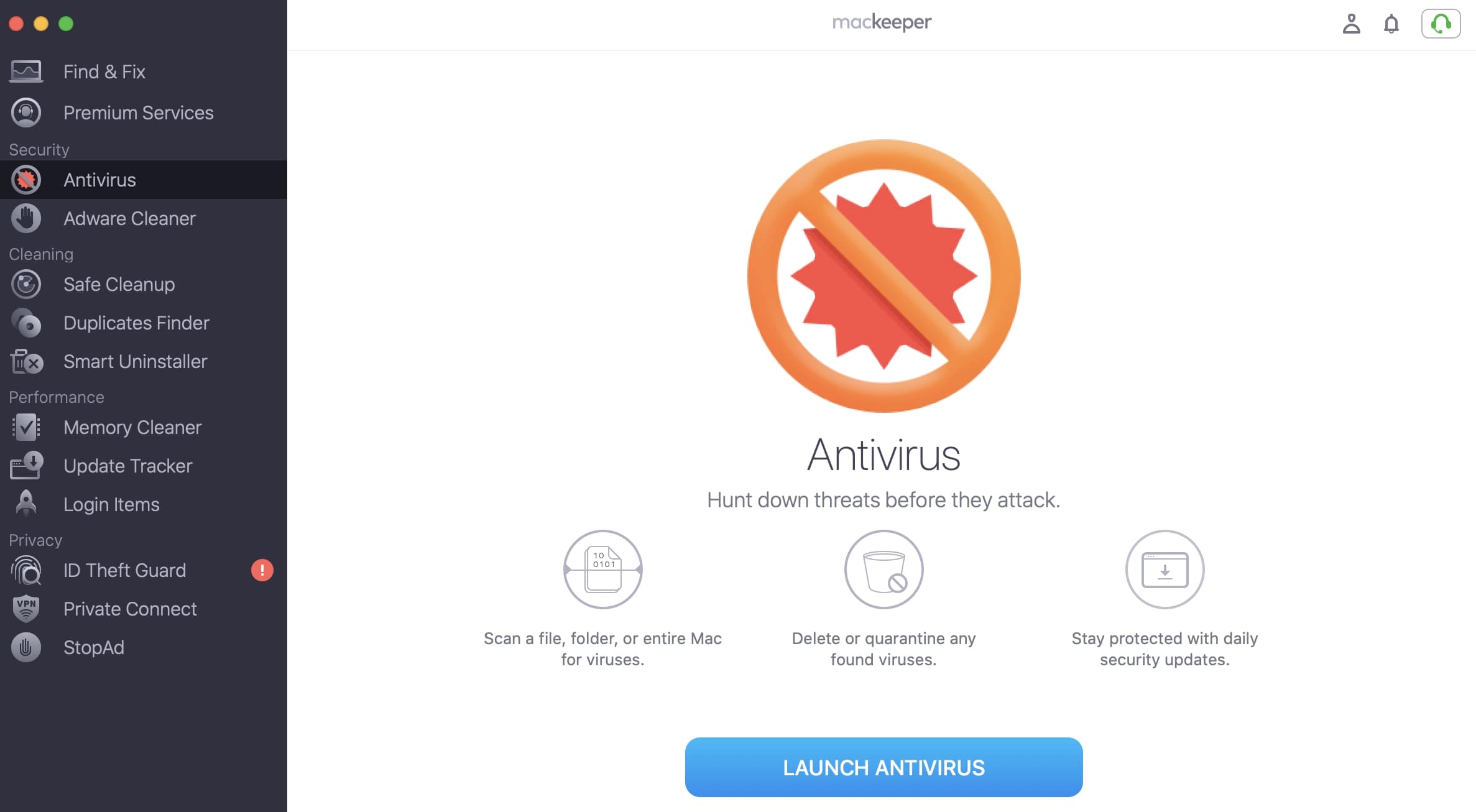 Is your Mac camera broken?
As with any computer hardware, Mac webcams can physically stop working. The only solution in such cases is to get a replacement. That's easy enough with an external camera, of course, but if you own an iMac, a MacBook Pro or a MacBook Air with one of Apple's internal iSight cameras, then your only options are to take it to a qualified repair technician or to start using an external camera.
Apple's hardware is pretty robust, though. So if your Mac camera isn't working, don't panic. Try out all the fixes in this guide, and with any luck, one of them will get you back on track.
Read more: