Updated: May 22, 2020 | 18 min read
Mac Camera Not Working. What to Do?
Something you should know
Fixing a broken cam on your Mac may become a much easier task after reading this article — we certainly hope so! However, you need to keep in mind that some kinds of malware and viruses may be the reason for cam malfunction, so it's better to check your Mac before starting any manipulations.

Download MacKeeper to detect any possible viruses and malware and keep you feeling safe. Moreover, the software will help you to delete them if needed.
Mac camera not working — in a nutshell
We use our cameras on a daily basis, especially when working from home — it's crucial to maintain connection with your colleagues via Zoom or Skype. So when the camera isn't working on your MacBook Pro, it can be a real bummer.
Luckily, it's a problem that's easily fixed — both for built-in and external cameras. First, we'll look at the reasons why your camera might be failing. Next, we'll focus on how to fix a Mac camera:
Why is my camera not working?
When the camera is unavailable on MacBook, you get the "There is no connected camera" notification. There can be several possible reasons for such notification, and not all of them necessarily have something to do with hardware. It can be anything from internet connection to a malware infection — whatever the case is, there is always a software-based solution.
However, if you think that your camera has suffered physical damage, you shouldn't attempt fixing it on your own to avoid causing major impairments to your laptop. In a situation like this, always seek professional help.
How to connect an external camera to a Mac
If you own an external camera that you want to connect to an iMac or a MacBook, you'll find that it comes with the right cable. Make sure that the cable and the port are clean and not covered with dust — tiny particles of dirt interfere with connection. Make sure you clean the port and the connector before connecting a camera to your computer.
Make sure that the cable fits tightly when you insert it. The camera should be instantly recognised by the MacBook — if it isn't, try plugging it into a different port. If you're using a device from a manufacturer other than Apple, you may need a separate application to help your computer recognise it. Those are usually available from the manufacturer's official website.
How to turn on the built-in camera on a MacBook
Cameras on Apple devices, including MacBook Pro, can't be turned on manually. It happens automatically when you open an application that operates the camera. Try opening FaceTime or Photo Booth to activate it. If FaceTime camera isn't working on your Mac, you have to resort to Terminal.
How to use Terminal to turn on the iSight camera:
To open Terminal, go to Applications → Utilities → Terminal in Finder
Type in the command sudo killall VDCAssistant and press Enter — this command force-quits all applications that use the camera and resets it
Enter your password in the pop-up window
Open FaceTime again — the camera should now be working

Restart or use safe mode
If Terminal is of no use, the simplest solution would be to restart the computer. This will simultaneously shut down all the apps that have access to the camera. If that's not enough, restart the Mac again, but this time in safe mode.
This will help your computer to pin down any software that boots on startup and might be causing the problem. In safe mode, the system checks the startup disk and only operates essential programs.
To launch safe mode, restart the computer and hold Shift as it's booting. You will be able to identify safe mode when the login window appears — a Safe Boot sign will appear in the top right corner of the screen.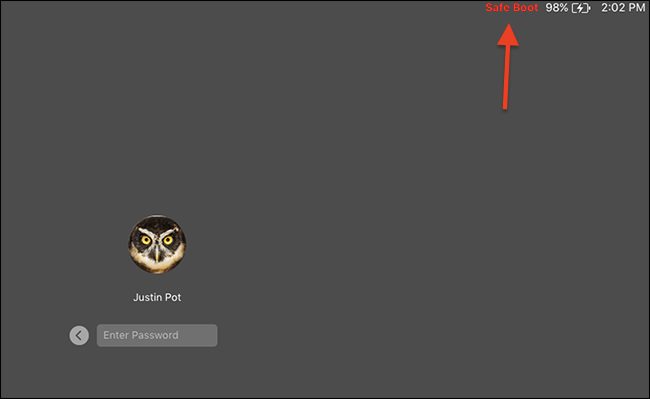 Make sure you're connected to the internet
If you attempt to make a video call when the internet connection is poor, your Mac will insist to minimize its expenditure by turning off the camera. If you notice that the image and the sound of the person you're talking to are distorted, it's likely that one of you has poor network signal. Try reconnecting to Wi-Fi or using data instead.
Check the app's settings
Although Apple doesn't provide a separate function for camera settings, each individual app that utilises it will have its own regulations. If you're using an App such as Zoom, Skype, or WhatsApp, check the app's preferences to see if the built-in camera is recognized.
Quit other apps that may be using the camera
Cameras on Apple devices have a peculiar feature — they will only work if they're open in a single app at the same time. You will be denied permission to use the camera if you employ it across multiple applications. You will know that the iSight camera is working if there is a green light next to it.
Check the Dock for any apps that you know might potentially use it — for example, Skype, FaceTime, Zoom, PhotoBooth, or your browser. Alternatively, you can use the Activity Monitor, go to Applications → Utilities → Activity Monitor. You'll see all the processes running in the background.
Quit any apps that could be running the camera by clicking on their name and then pressing on the cross in the top left corner of the window.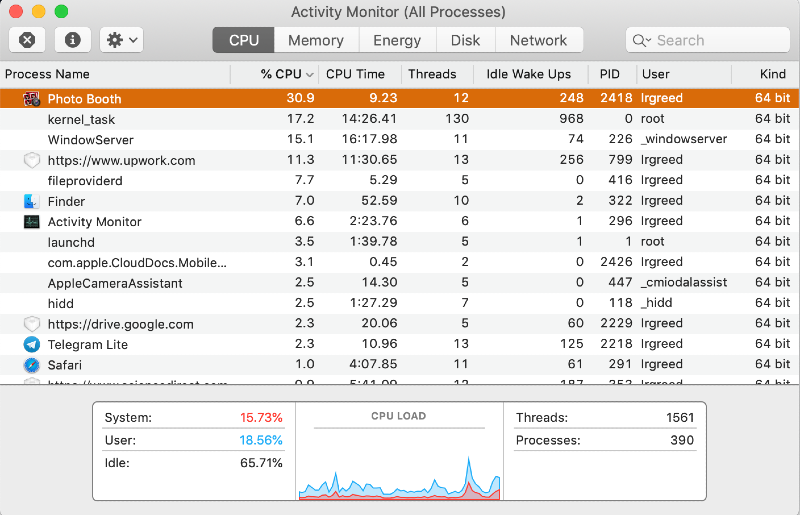 Reset the SMC
The System Management Controller orchestrates such basic functions of your MacBook as turning on and off and controlling the cooling fans. It also regulates the iSight camera. If the camera isn't working on your MacBook, the issue can be related to an SMC malfunction.
To reset the SMC on early MacBooks, make sure your laptop is connected to a power source and shut it down. When it's completely off, hold Shift + Control + Option + Power button until your Mac reboots.
If you own a newer MacBook with a T2 security chip (2018 and later), the process is a bit different:
Shut down the Mac
When it's fully off, hold the power button for 10 seconds
Release the power button and, after a while, turn the MacBook back on
Shut down the Mac again
Hold Shift + Control + Option for 7 seconds
After 7 seconds, add the power button to the combination and hold for a further 7 seconds
Release all the keys and, after a few seconds, turn the Mac back on.
Run the Apple hardware test
Apple Diagnostics enables an accurate self-diagnosis of any internal hardware issues with your Mac. In pre-2012 Macs it's called the Apple Hardware Test and it runs slightly differently. If your camera's hardware is damaged, this tool can help detect it.
To run Apple Diagnostics (post-2013):
Disconnect any devices such as headphones, disks, ethernet cable, etc
Restart your Mac. While it's booting, hold the D key and wait for a screen presenting you with different language options
Select your preferred language and wait for an automatic completion of the test
Look out for the following codes to identify an issue with the camera: NDC001, NDC003, NDC004, NDC005, NDC006
If you see a code like that, take your Mac to a service centre to see what support is available.
Reset NVRAM
Non-volatile random access memory (NVRAM) stores local settings such as volume and kernel panic information. It is why your volume stays the same when you restart your computer. It also stores some camera settings — resetting NVRAM can help when your MacBook camera is not connected.
To reset NVRAM:
Shut down your Mac
Turn the Mac back on and, while it's booting, hold Option + Command + P + R;
After about 20 seconds, you'll hear two startup sounds — you can release the keys after the second one
On Macs with a T2 security chip, release the keys after you see the Apple logo appear for the second time
Evaluate system updates
With software updates we encounter a situation of a double-ended sword — if you don't update your macOS, the camera will glitch. If you do get an update, it also may malfunction.
Updating the operating system is crucial for your Mac's functioning, mainly for security reasons. If you haven't updated it in a while, you'll come across all sorts of errors, including iSight camera not working on your Mac. This happens when you use an app that has recently had an update, it may not operate in the older version of your OS.
Correspondingly, if you've recently updated the system and the camera isn't responding, you should check if there are updates available for the application you're using. The bottom line is that you should always keep all of your applications and your Mac's operating system up to date to make sure the camera works smoothly.
To update macOS, go to the Apple Menu in the top left corner of the screen and click on System Preferences. Then follow into Software Update. If an upgrade is available, you'll see a corresponding button.
To check for any changes available for applications, go to the App Store and click on Updates in the sidebar on the left. Anything that needs upgrading will display a prompting button.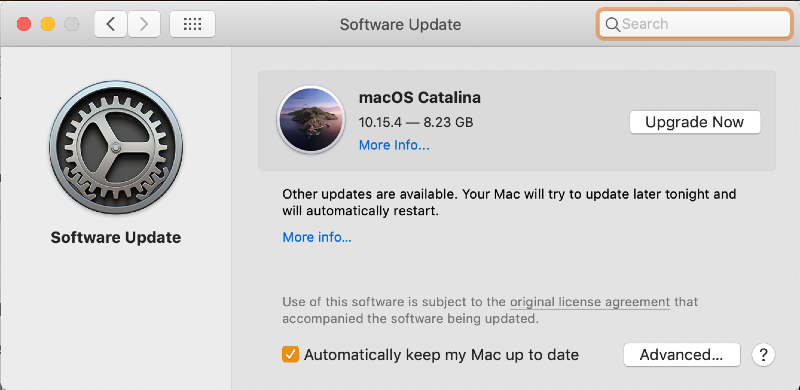 To check for any changes available for applications, go to App Store and click on Updates in the sidebar on the left. Anything that needs upgrading will display a prompting button.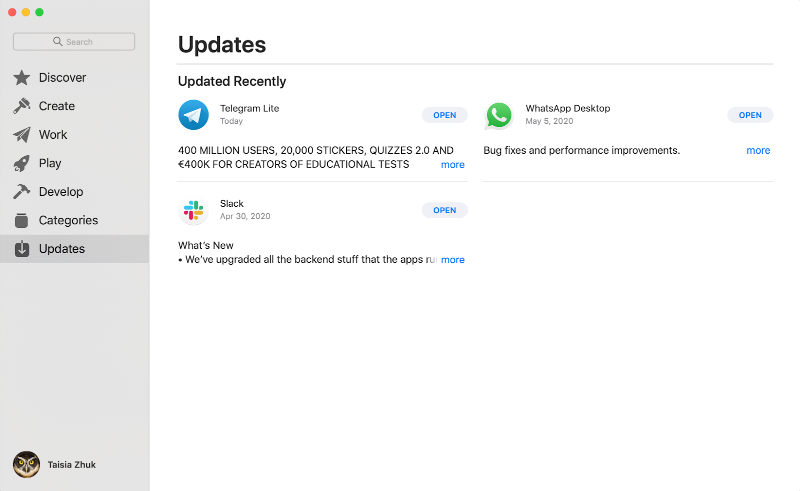 Scan your Mac for malware
If nothing seems to work, the chances are that your computer is infected with a virus. You may have downloaded malware from the internet by clicking on a suspicious link or visiting a dodgy website.
You can check if there is a foreign process eating away your computer's CPU through Activity Monitor — open it by following Application → Utilities → Activity Monitor. You'll see a list of all of your programs running in the background, anything that looks suspicious and uses up too much CPU is likely to be malicious.
Unfortunately, simply deleting the source file is not enough — when malware gets into your computer, it spreads across your entire system and infiltrates random files, just like a virus particle.
Therefore, the only way to get rid of it is by scanning it with specialised antivirus software that detects every bit of information stored in your Mac and identifies malicious items. For example, you can use MacKeeper's anti-malware tool.
What to do if your Mac camera is physically damaged
If you've recently dropped your laptop, you might've noticed that your camera stopped working afterwards. It's likely that you're experiencing a hardware issue. In this case, avoid making purchases from eBay and using cheap third-party services to fix your Mac.
Don't attempt to fix the camera yourself — this can seriously damage the computer. Instead, call an official Apple service centre and ask if they can help.
Other possible problems
If your iSight camera is only not working in particular apps, there are a few tricks you could try to fix it. Below we outline steps to fix Skype, Photo Booth, Zoom, and FaceTime cameras.
Camera not working on Skype
Skype is often a problematic app, especially when it comes to audio and video settings. Most of us are familiar with the annoyance that comes when the camera or microphone randomly stops working in the middle of a call. This is rarely a Mac issue and has to do with Skype itself.
Here's how to tackle camera not working on Skype on a Mac:
1. Ensure that you're using the latest version of Skype and all its helper tools. You can check this in the Skype app — open it on your Mac and go to Notifications in the sidebar on the left side of the window. If there is an update available, you'll receive a notice informing you about it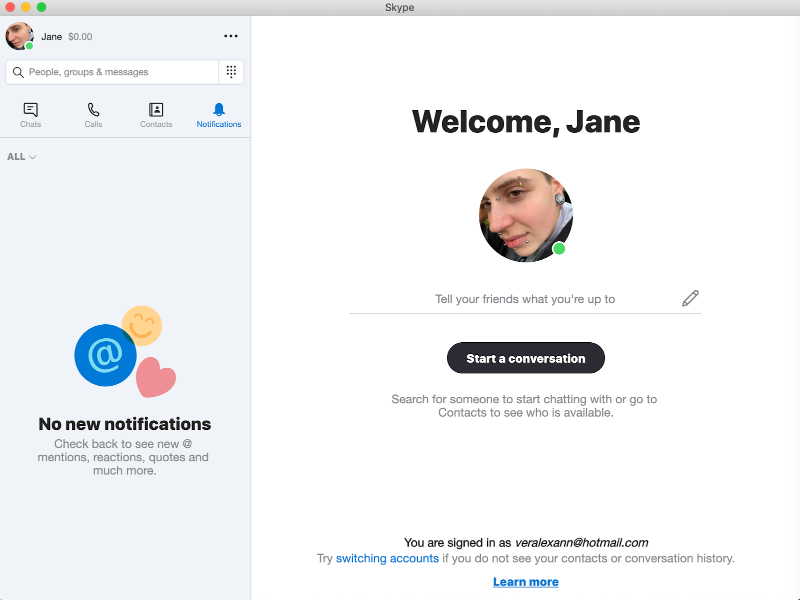 2. Reinstall Skype.
First, quit the Skype app and delete it from your Mac.
Drag its icon from Applications into the Trash folder found in your Dock.
Next, go to MacBook (in the sidebar on the left in Finder) → Macintosh HD → Library → Application Support. Find Skype and delete it from that folder as well.
Then go to Preferences in the Library folder and search for Skype — delete all the documents associated with the word. This will complete a full uninstallation of Skype.
To reinstall the program, go to the Skype website and download the latest version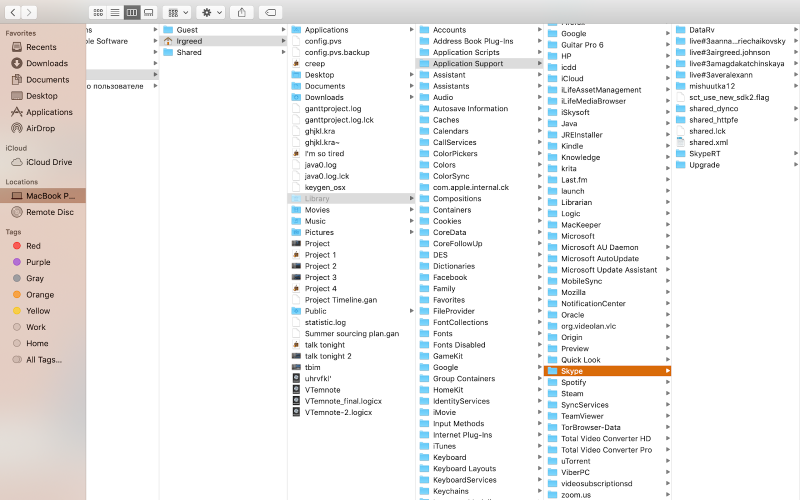 If simply reinstalling the app doesn't work, restart your Mac. Sometimes Skype just fails and needs a full reboot. Commonly, reinstallation and restarting the laptop solves the problem.
Camera not working in Photo Booth
First of all, try to see if the camera is working in other apps such as iMovie or FaceTime. If it seems to be restricted to Photo Booth, try to restart the app — quit it and launch again. If it won't quit, you can force quit by pressing Command + Option + Esc. If the app doesn't work after a reboot, you need to reset the iSight camera, and then reset the SMC.
How to fix my Mac camera not working on Zoom?
Before you do anything, make sure that you're not operating any other programs that might be utilising the camera, it can't work with several apps on at the same time. If that doesn't seem to be the issue, restart your computer and try using Zoom again. Check if it works in other camera-based apps such as FaceTime or Photo Booth. If Zoom is the only app where the camera is disabled, reinstall the latest version of the app. If nothing is effective, contact Apple support, your camera might be broken.
Camera on FaceTime not working
Try quitting FaceTime and reopening the app again. If the app won't quit, press Option + Command + Esc to open a Force Quit window — it will display all the currently open applications that can be shut down. Select an app to quit it. Alternatively, go to Video in the menu bar on the top of the screen and check that you've selected the right camera.
Other things to try if your FaceTime camera is not working on Mac:
Reset VDCAssistant in Terminal to reboot to camera daemon and all the apps employing it
Reset NVRAM
Reset SMC
If the problem persists, check out this guide on overcoming problems with FaceTime.
FAQ
How do I reset my Mac camera?
To reset a Mac camera, you need to disable the daemon responsible for the build-in camera on a MacBook. This can be done via Terminal, type in sudo killall VDCAssistant and press Enter. This will restart the daemon and all apps using the camera.
Why is my Mac camera blurry?
Unfortunately, a lot of users have reported a decline in their MacBooks' camera quality in the new models compared to older versions of MacBook. It's especially widespread with MacBook Air. Apple themselves have yet to make any comments about that and the only solution seems to be to go to an Apple store to exchange or return the Mac.