Every Mac comes with Safari installed by default, and as a standard part of macOS, it's about as reliable as you could wish. But it's not infallible. As with any software, one day, you may find that Safari keeps crashing - either closing itself down, freezing up, or acting erratically.
In this article you will find the following:
If you find yourself in that situation, read on a few tips to get your Safari working again.
Before we start

There are many reasons why Safari may be crashing, including corrupted caches and even malware. You can deal with all these issues using MacKeeper. As well as cleaning out unneeded data and apps, it offers antivirus, ad blocking, a VPN client, and more. Download it today, and try out its range of tools.
Why does Safari keep crashing on your Mac?
Whether you have an iMac, a MacBook Pro, or some other model, the reasons behind your Safari crashing or freezing problems are likely to be the same. Although malware is one possible reason, there's no need to panic — there are also many more mundane possibilities, including incompatible software or plugins, poorly coded websites, and corrupt installation files.
You may also find similar issues with Google Chrome or problems with Firefox and other third-party browsers.
How to fix Safari crashing problems on your Mac
Let's look at how you can deal with Safari crashing and freezing problems. Hopefully, one of these fixes should get the browser up and running again.
Force quit Safari
If Safari has frozen, you should first try to quit in the normal way, using Cmd + Q. If that doesn't work, then force quit it instead.
Press Cmd + Opt + Esc on your keyboard
This will bring up the Force Quit Applications window
Select Safari, and click Force Quit.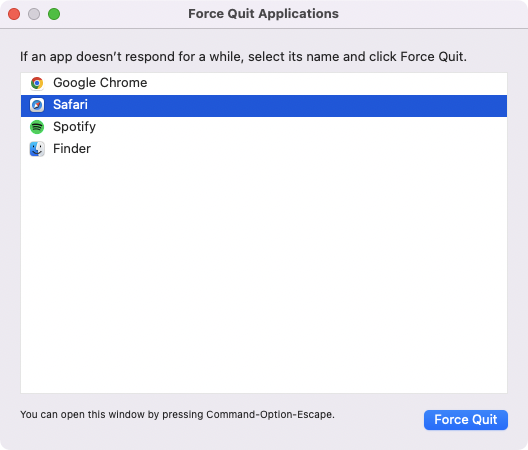 When you reopen Safari, you may find that your freezing problem is gone. That's certainly the case if the cause was a badly coded website. But if there's a deeper underlying issue, you may find that Safari will keep on freezing. In that case, try some of our other fixes.
Clear Safari caches
A lot of apps use temporary storage areas called caches. For web browsers like Safari, caches can speed up performance because data, like images and JavaScript files, can be downloaded onto your computer. That means they don't have to be downloaded again when you revisit sites. Unfortunately, these caches can grow too large or get corrupted, which can cause Safari to crash or freeze.
Here's how to clear Safari caches:
From the Safari menu bar, select Safari > Preferences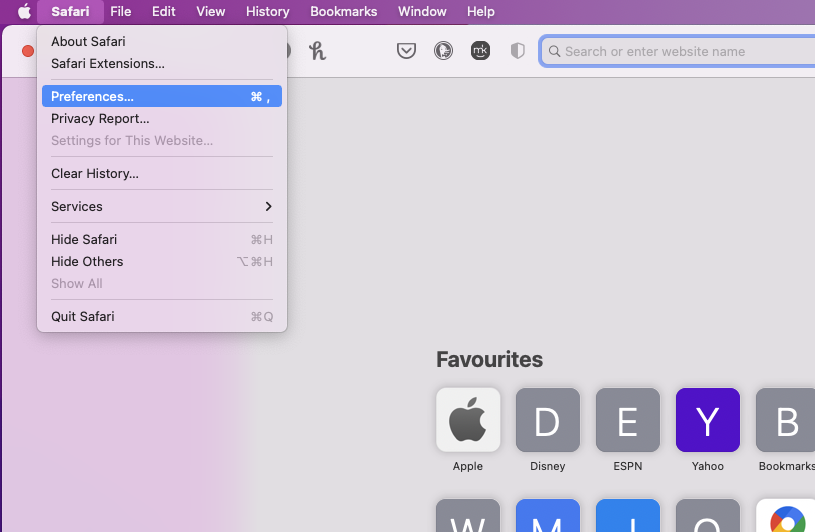 2. Go to the Advanced tab, select the Show Develop menu in menu bar, then close the preferences window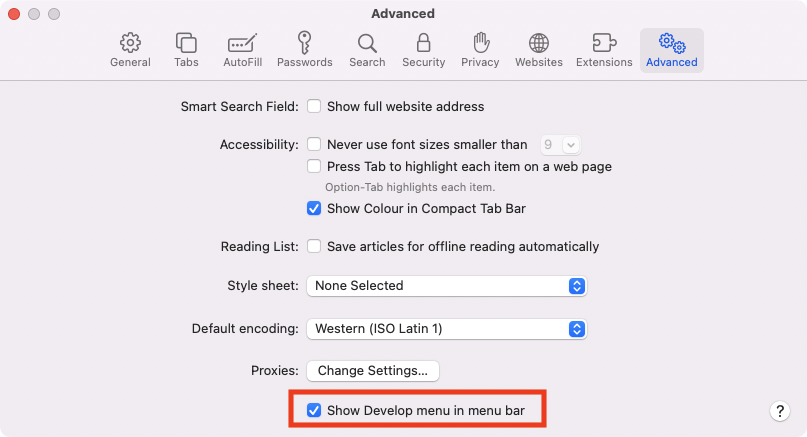 3. Now, in the menu bar, select Develop > Empty Caches.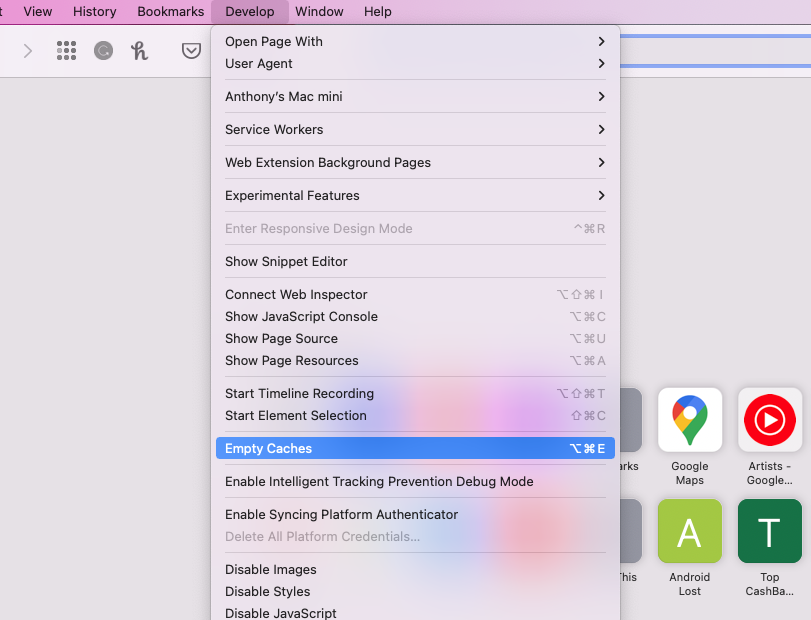 4. After emptying your caches, restart Safari. Hopefully, it'll have stopped crashing or freezing.
Delete Safari history and website data
Although it's handy to have a list of sites you've visited, clearing your Safari history can help with crashing and freezing issues. Not only does it clear your history, it also deletes cookies, which websites store on your Mac, as well as other website data.
In your menu bar, select History > Clear History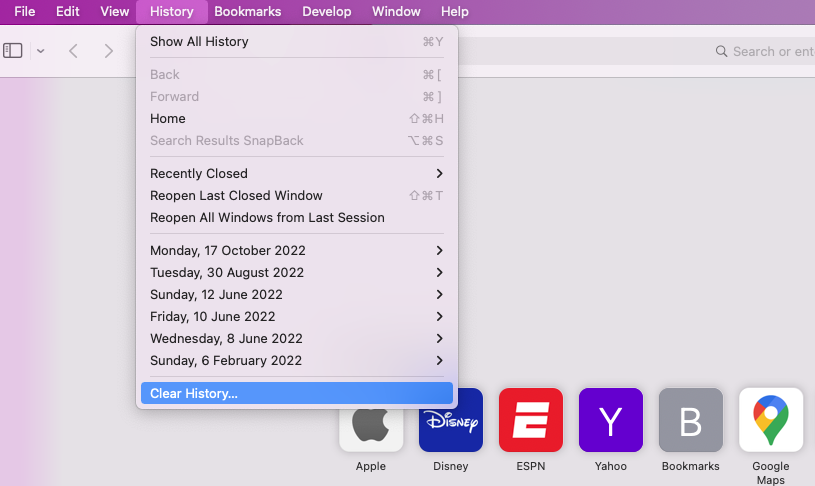 2. Use the dropdown menu to choose how much of your history to delete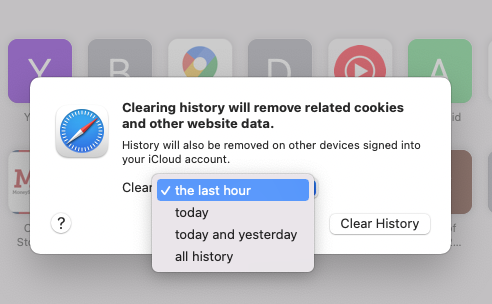 3. Click Clear History.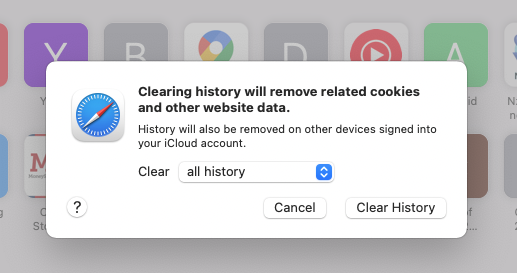 Now restart Safari and see if your crashing problem has been fixed.
Delete Safari extensions
Extensions are a great way to add new features to Safari, but they can cause problems too. Uninstalling extensions can be a good way to stop Safari from crashing or freezing. Follow these steps to remove extensions:
From the menu bar, select Safari > Preferences
Open the Extensions tab
Pick an extension, and click the Uninstall button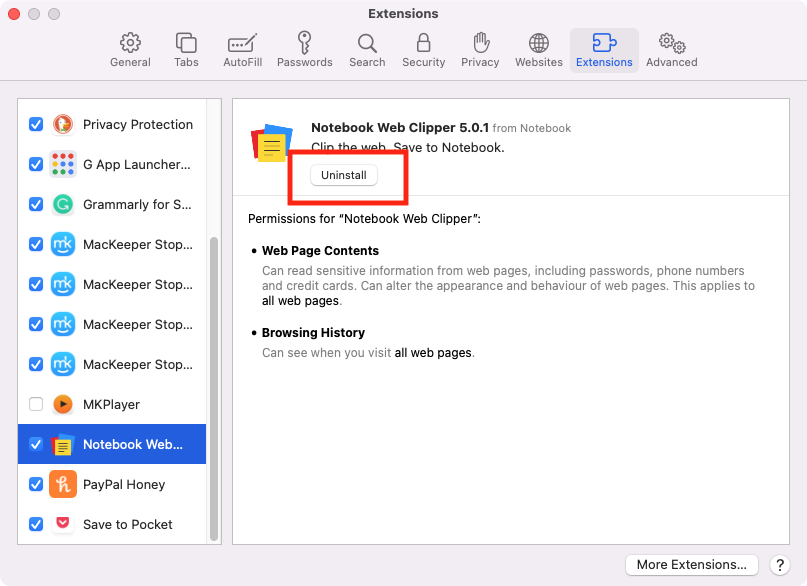 4. If prompted, click the Show in Finder button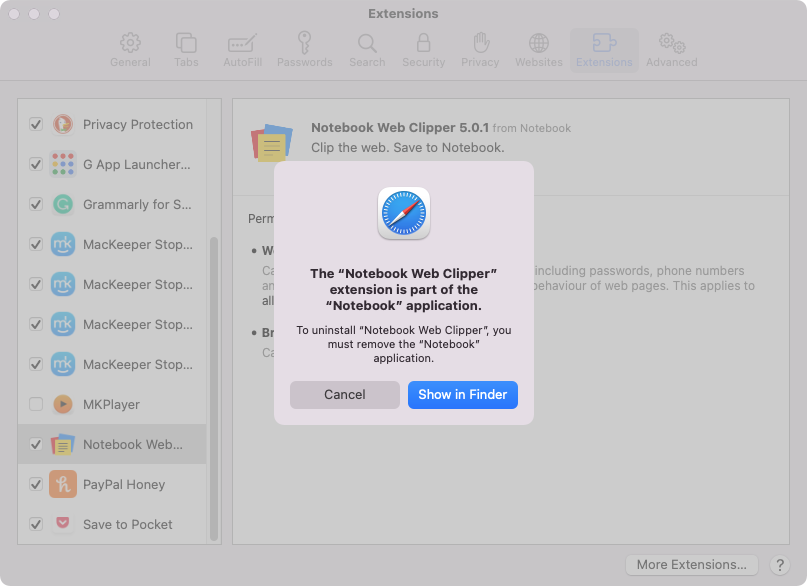 5. Delete the extension as you would any other file.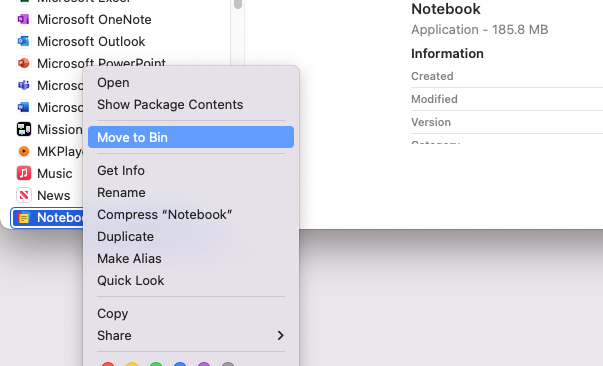 Restart your Mac
Sometimes, your Safari crashing problems may be related to macOS rather than Safari itself. That problem may also be temporary, and for that reason, fixing it can be as simple as restarting your Mac.
In your menu bar, click the Apple icon, and select Restart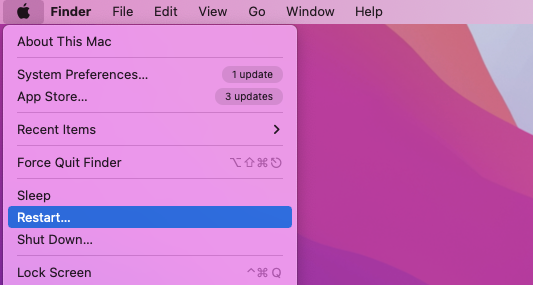 2. Select whether you want windows to reopen or not after the restart
3. Click Restart.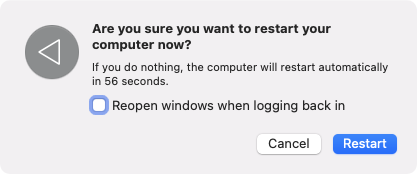 Delete your Safari preference files
When you change settings in Mac apps, macOS stores your preferences in .plist files. Deleting your Safari preference files will reset your settings, which can help with problems like freezing and crashing.
Quit Safari, then in Finder, select Go > Library. If you don't see Library, try holding down Opt.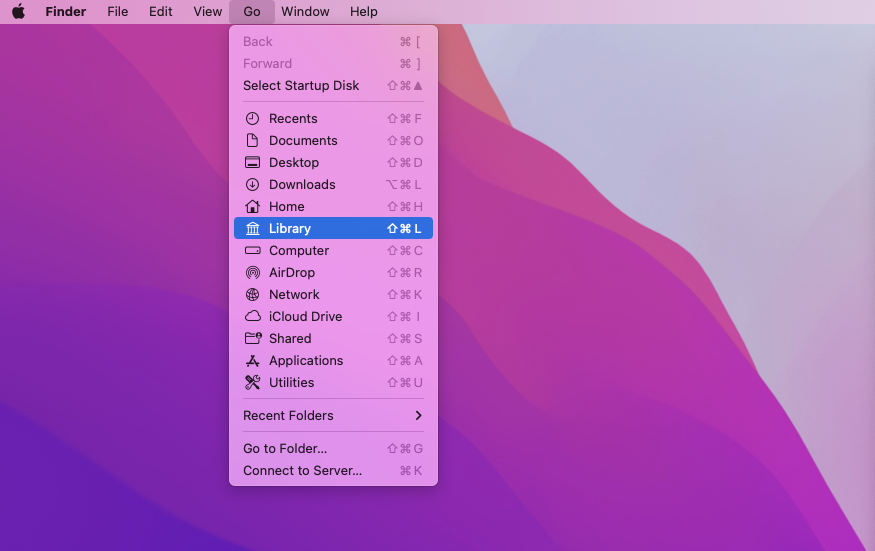 2. Navigate to Library > Preferences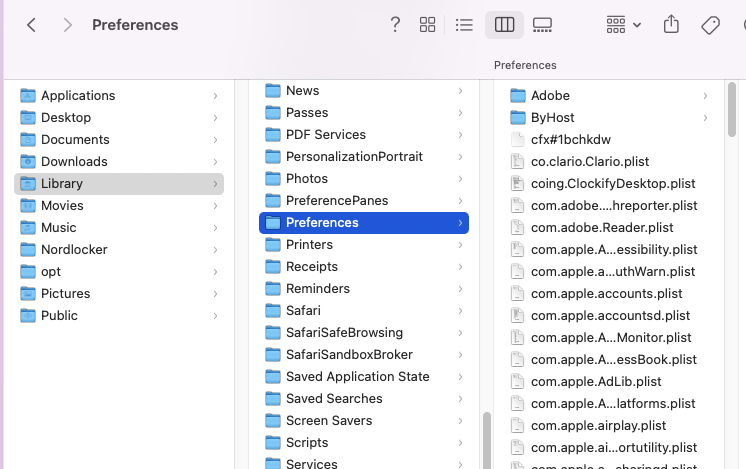 3. Find any .plist files that begin with .com.apple.Safari, and delete them, making sure to empty your trash afterwards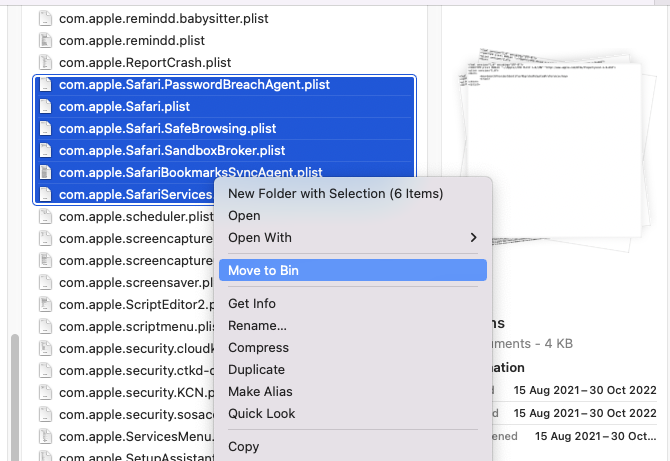 4. Restart Safari.
Clear your RAM
The more you have running on your Mac, the more of its resources you'll use. If you have other apps running and lots of tabs open in Safari, that can cause drag, making it freeze or even crash. Clearing your RAM can help, and it's easy to do with MacKeeper.
In MacKeeper, select Memory Cleaner from the sidebar
Click Open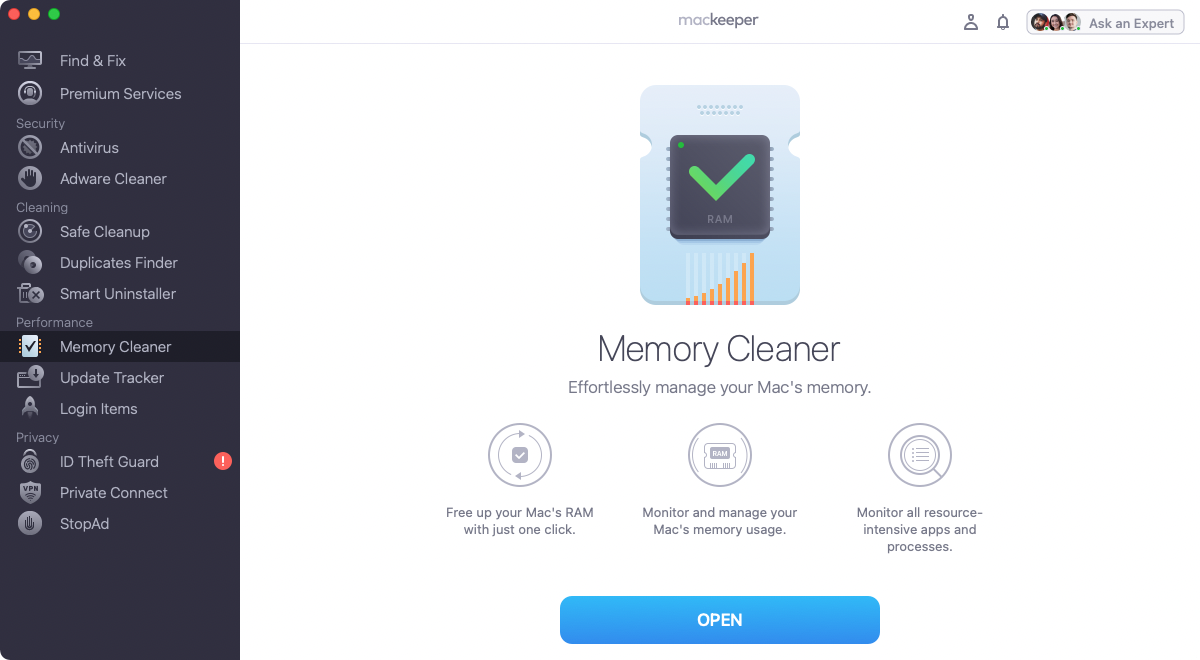 3. Click Clean Memory.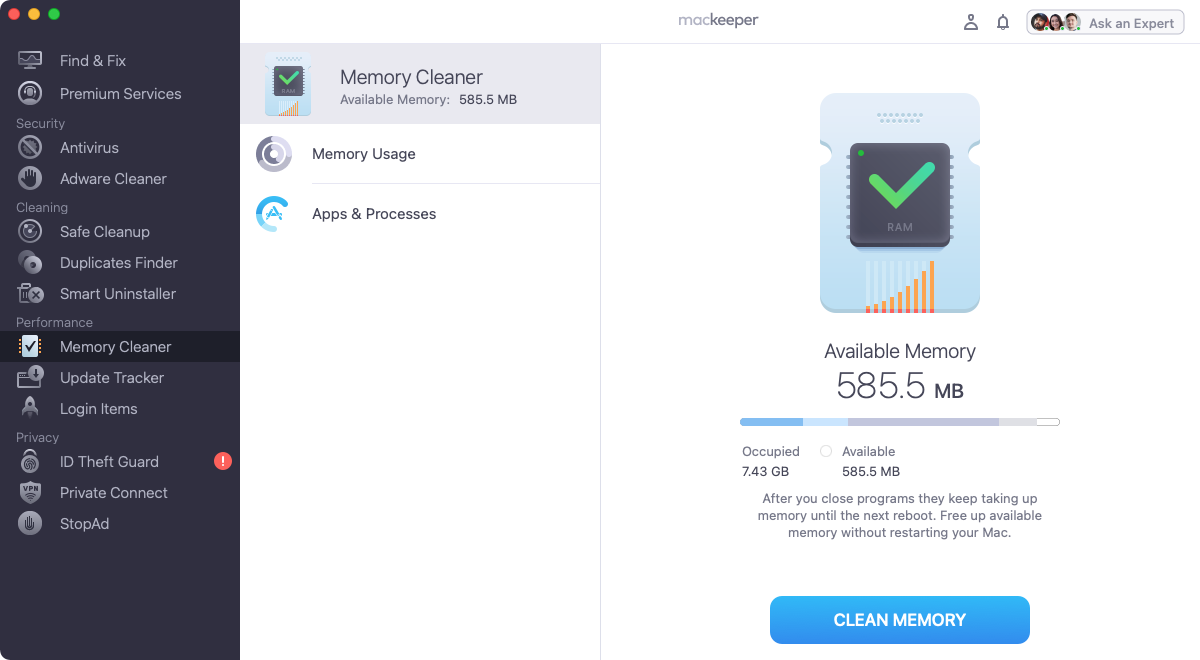 That's all there is to it. With your RAM cleaned out, you may find that Safari begins to run more smoothly.
Update macOS and Safari
Apple regularly creates updates for macOS and Safari. As well as offering new features and security patches, these updates often include bug fixes, so installing them could be all you need to stop Safari crashing.
Open System Preferences, and select Software Update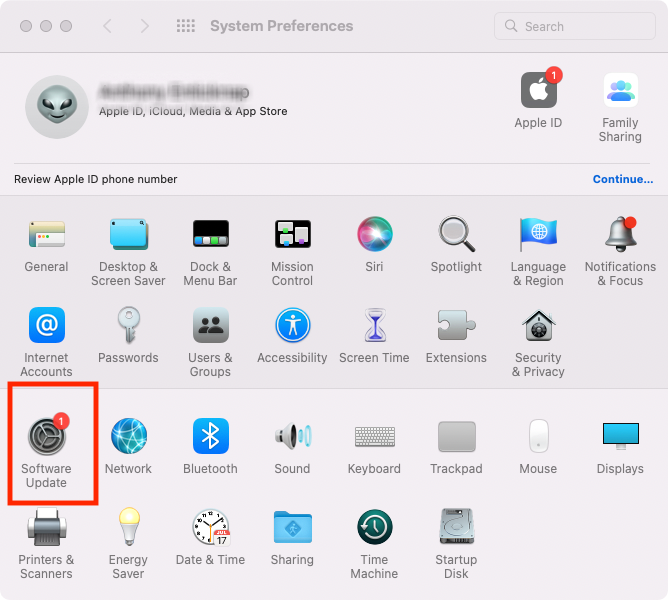 2. macOS will now look for updates, which will include default apps like Safari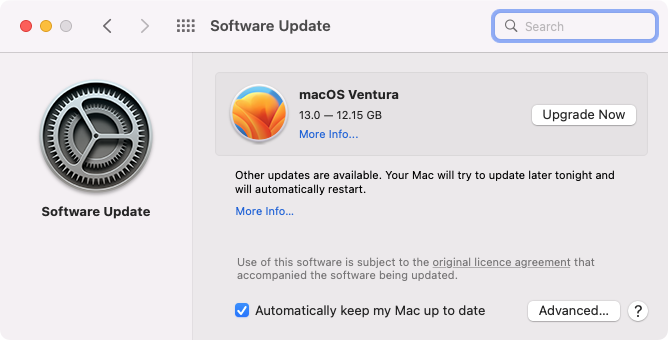 3. Select the update or upgrade button depending on what's available.
After restarting your Mac, open up Safari again and see if the crashing problem has been fixed.
What to do if Safari won't open
A lot of these fixes depend on being able to get into Safari. If it's crashing or freezing immediately, then they won't work. Luckily, you can carry out many of these fixes using MacKeeper without ever opening Safari at all.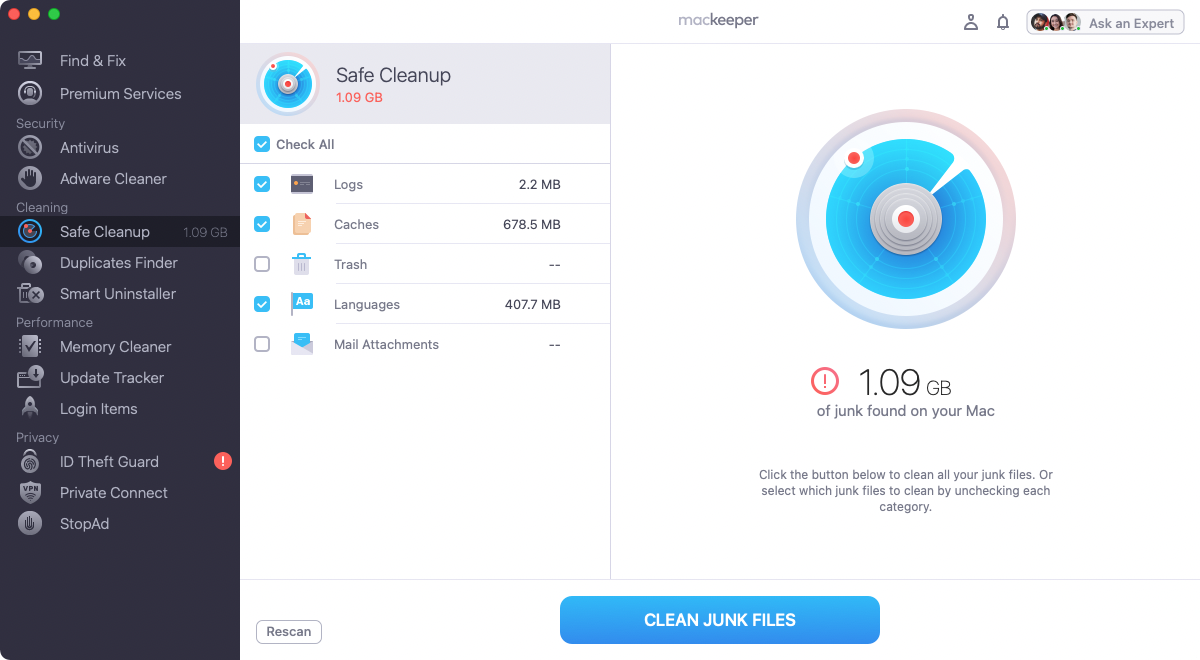 MacKeeper's Safe Cleanup feature lets you find and delete all kinds of cached files, including those in Safari. Its Smart Uninstaller makes it easy to remove not only apps but also add-ons and browser extensions. The Update Tracker helps you to keep on top of app updates. And the Antivirus tool keeps your Mac free of malware.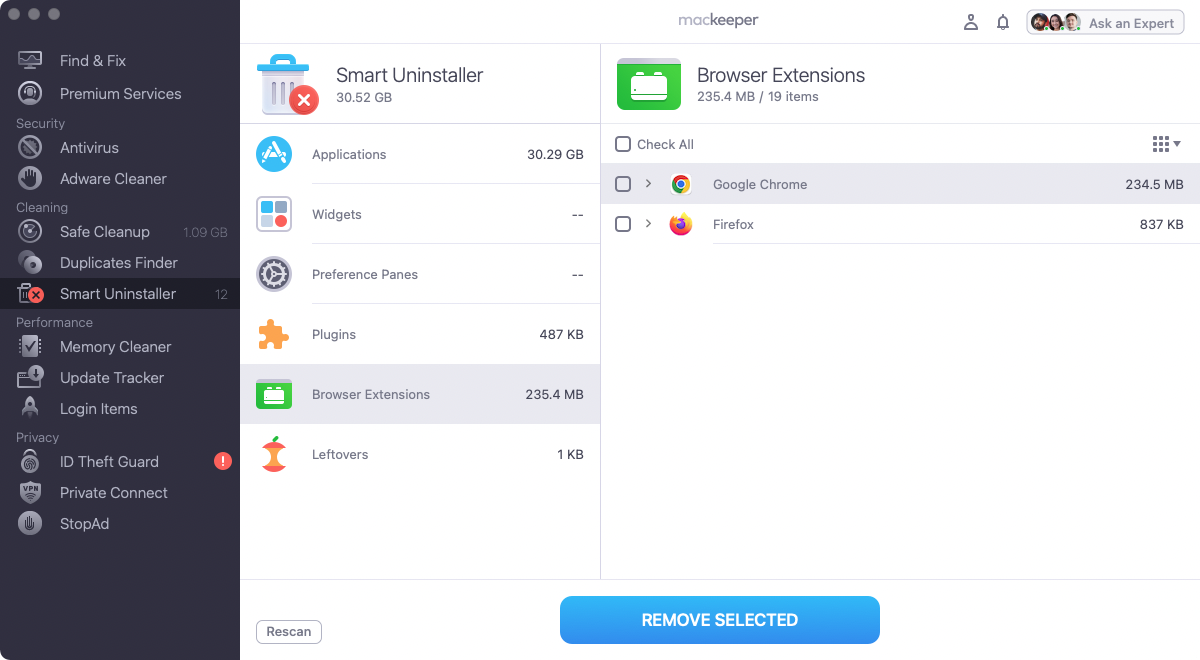 These are just a few ways it can help you — whether Safari is crashing, your Safari bookmarks have disappeared, or you have some other problem with your Mac.
Last words
Ultimately, if Safari keeps crashing, you could try a different browser. There are many alternatives, with lots of great features that Safari doesn't have. Hopefully, though, one of the fixes in our article has fixed the issue for you, letting you get back to browsing as normal.