Safari is a useful browser — that much is sure. Yet, despite its ready availability and simplicity, Safari is used by less than 20% of web surfers worldwide. If you also prefer other browsers, you might want to learn how to uninstall Safari from Mac. This article can help you with that.
Quick Solution


Before you explore conventional time-consuming methods of app uninstallation, consider a quick solution.


To completely uninstall an app on your Mac:

In the Smart Uninstaller tab, click Start Scan

Select the app, and click Remove Selected

Jump right to the article section you need:
Before uninstalling Safari
By getting rid of Safari, you're also removing a ton of potentially valuable information. Walk through this checklist and ensure you have the necessary information saved before proceeding with the browser uninstallation.
Passwords
Bookmarks
Browsing history
Extensions
How to remove Safari from your Mac using Terminal
The removal of Safari is not a mundane task every Mac user can do. It has to do with the fact that Apple protects its native apps, including Safari, with System Integrity Protection. To turn it off, make sure you have admin rights before going any further. You can do that using Terminal.
Follow these steps to uninstall Safari with Terminal:
Restart your Mac, and immediately press and hold Cmd + R
In the Utilities menu, select Terminal
To disable System Integrity Protection, enter csrutil disable, and hit the Return key
Restart your Mac
Log into the admin account
In the Terminal window, enter sudo mount -uw/System/Applications and press Return key
When prompted, enter your password
Enter cd/Applications/ and hit the Return key
Enter sudo rm -rf Safari.app/, and hit the Return key

How to delete Safari from Mac manually
If you use macOS Yosemite or earlier, you can remove Safari manually. Granted, it's not the fastest way to part with the browser, but it gets the job done. Ready to plunge into the depths of your Mac's libraries?
Here's how to manually delete Safari on Mac:
Go to Finder
Navigate to the following directories, and delete all files containing the word 'Safari' in their names:

/Users/Your Name/Library/
/Users/Your Name/Library/Address Book Plug-Ins/
/Users/Your Name/Library/Preferences
/Users/Your Name/Library/Caches
/Users/Your Name/Library/Saved Applications State
/Users/Your Name/Library/Application Support/CrashReporter/

Drag Safari to the Trash
Empty the Trash
Why Safari cannot be uninstalled completely
Safari cannot be completely uninstalled from your Mac because it's locked by System Integrity Protection (SIP). This safeguard has been in macOS since El Capitan 10.11 to ensure Mac owners cannot tinker with macOS files. Now neither Safari nor other native macOS apps can be removed completely.
It's not all bad news, though. You can still delete most files associated with Safari, leaving only a binary file that doesn't take up much space on your Mac.
How to effortlessly delete any app using MacKeeper
It can take you anything from five to 30 minutes to manually remove an app on your Mac. If you have only a minute to spare, consider using MacKeeper. As well as security and optimization features, it includes app uninstaller software for Mac users, which can help you get rid of any app in just a few clicks.
Follow these steps to remove any app on your Mac:
Open MacKeeper
In the Smart Uninstaller tab, click Start Scan
Select an app you want to delete, and click Remove Selected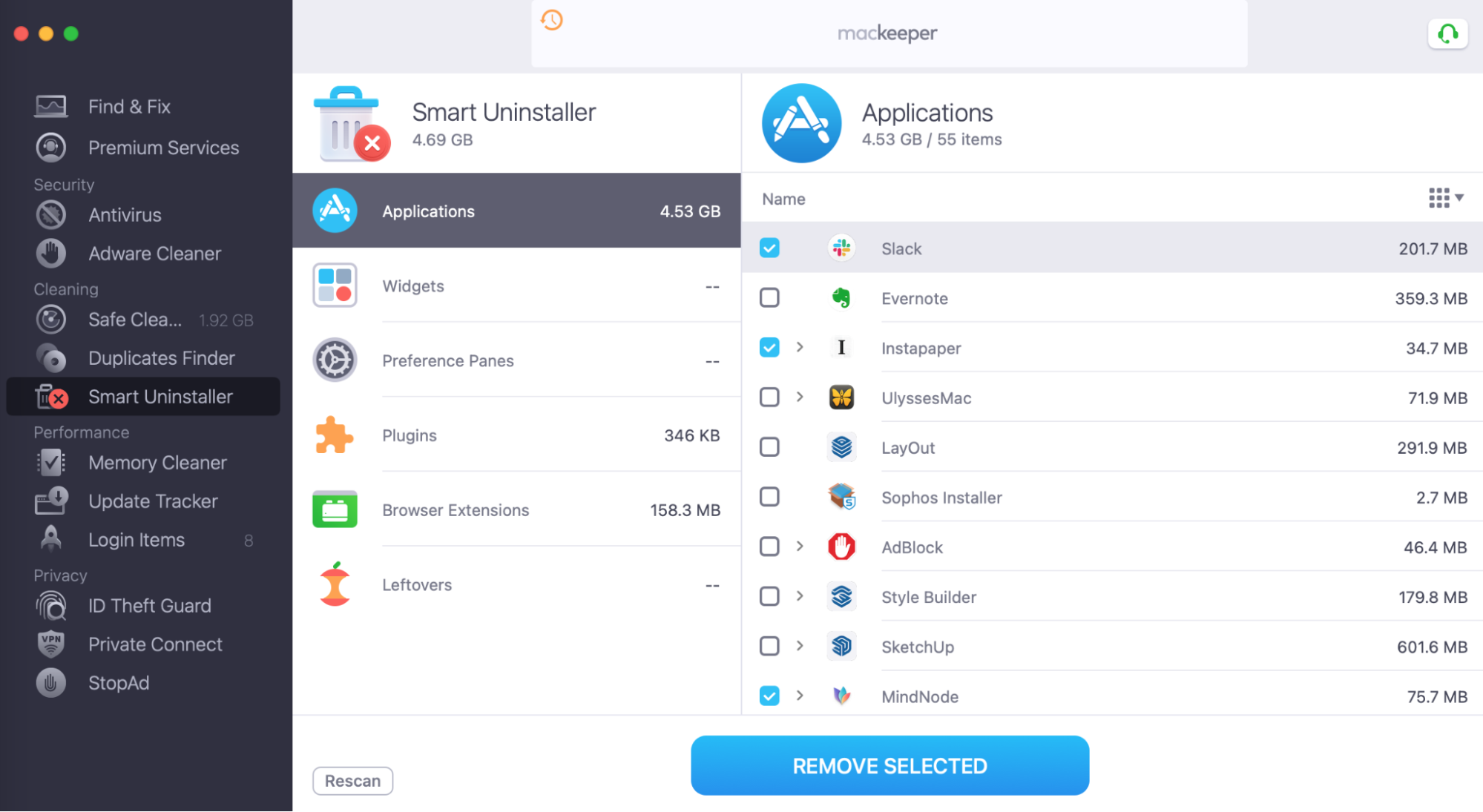 FAQ
How do you reset Safari on a Mac?
To reset Safari on Mac, you need to clear website data, extensions and caches.
Here's how it's done:
From the Safari menu, select Preferences
In the Privacy tab, select Manage Website Data, and click Remove All
Click Remove Now in the dialog window
In the Advanced tab, check the box that reads Show Develop menu in menu bar
From the menu bar, select Develop, and click Empty Caches
In the Extensions tab, uninstall Safari extensions one by one by clicking Uninstall
To reset Safari version 8 and older, follow these steps:
In the Safari menu, click Reset Safari
Select the items you want to remove, and click Reset
How do you block Safari on a Mac?
To block Safari on Mac, use Screen Time. It's a built-in macOS function allowing you to control app usage.
Here's how to block Safari with Screen Time:
In the Apple menu, select System Preferences
Select Screen Time, and click Options
Click Turn On
In the Content & Privacy Restrictions tab, select Apps
Uncheck the box next to Safari
How do you delete Safari history on a Mac?
To delete Safari history on Mac, follow these steps:
In the Safari menu, select Clear History
Choose the deletion period: the last hour, today, today and yesterday, or all history
Click Clear History
Note that the browsing records kept by the websites themselves will not be removed.
Read more: