In this article you will find the following:
You might use Bluetooth to connect your Mac to a wireless mouse, keyboard, set of headphones, or other accessories. Usually, these devices are easy to connect to and use, but occasionally your Mac might say that a Bluetooth device isn't available.
Other Bluetooth connection problems on your Mac can include:
Frequently disconnecting from devices
Not responding to connected devices
Failing to detect or pair with devices.
When these Bluetooth issues crop up, they're usually the result of software errors on your Mac, which you can fix with the steps we've outlined below.
If you follow all these steps and Bluetooth is still not working on your Mac, you'll need to get a hardware repair instead.
Before we start

Regularly cleaning and updating your Mac is one of the best ways to avoid Bluetooth problems and other software bugs. Download MacKeeper so you can clean up your software and keep Bluetooth problems at bay with just a couple of clicks.
Step 1. Restart your Mac and Bluetooth device
Just like every other computer system, sometimes the best way to fix Bluetooth problems is to restart everything. That means turning off your Mac as well as your Bluetooth devices. Surprisingly, this is often the most effective solution when your Mac says a Bluetooth device isn't available.
On your Mac, open the Apple menu and click Restart. Then confirm you want to Restart
For your Bluetooth device, look for a power switch or follow the manufacturer's instructions to restart it.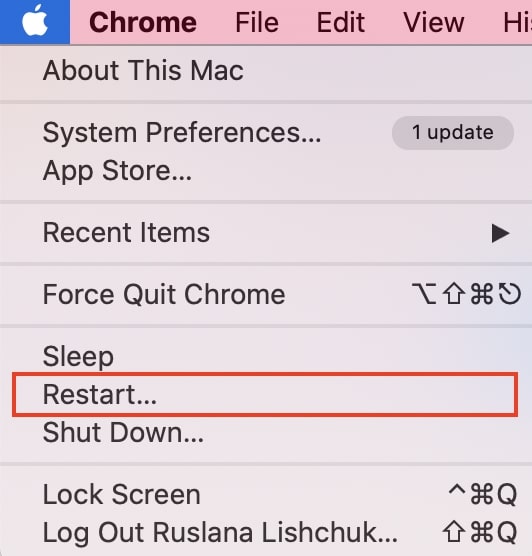 Step 2. Turn your Mac's Bluetooth off and on
If restarting doesn't help, try restarting the Bluetooth settings on your Mac.
If you're using macOS Monterey or Big Sur:
Click the Control Center icon in the menu bar > then click the Bluetooth icon to toggle it off and on.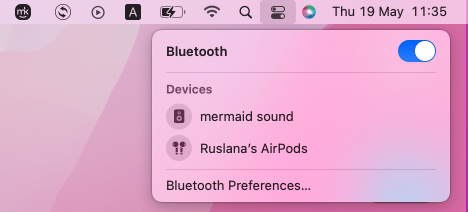 If you're using macOS Catalina or earlier:
Go to System Preferences > Bluetooth and click Turn Bluetooth Off.
Step 3. Forget and reconnect your Bluetooth device
Bluetooth connection problems often arise after upgrading macOS or replacing the battery in your devices. This is because these actions can cause new software problems to emerge. The easiest way to fix them is to disconnect your devices from your Mac and then pair them again.
The best way to disconnect a Bluetooth device is to tell your Mac to forget it.
Follow these steps to do that:
Go to System Preferences > Bluetooth
Click to select one of your Bluetooth devices
Click the X icon on the right, then confirm you want to Remove the device
Repeat these steps for each Bluetooth device on your Mac.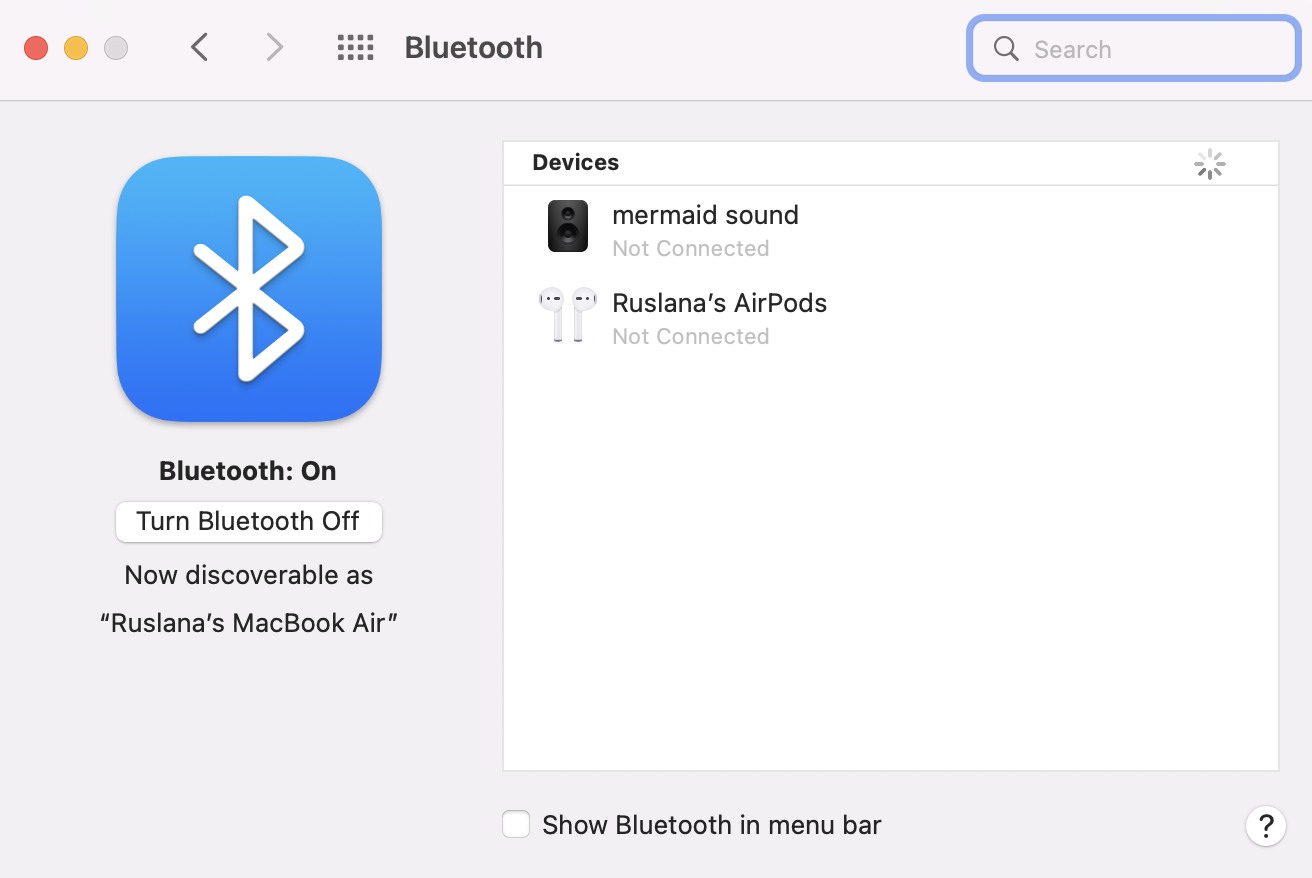 After telling your Mac to forget a Bluetooth device, simply connect the Bluetooth device again just like when you first used it.
Step 4. Delete the Bluetooth preferences on your Mac
If your Bluetooth devices are still not working there might be an issue with the Bluetooth preferences list on your Mac. These PLIST files can get corrupted over time, causing problems with a variety of wireless connections.
Follow the steps below to delete the Bluetooth preferences list from your Mac, forcing it to create a new file. After doing this, you may need to connect your Bluetooth devices again.
Here's how to find and delete the Bluetooth preferences list from your Mac:
Open Finder and select Go > Go to Folder from the menu bar
Type /Library/Preferences/ and click Go
Find the files following files (you may not have both of them):

com.apple.Bluetooth.plist
com.apple.Bluetooth.plist.lockfile

Drag these files to the Desktop to create a backup copy of them. This is important in case you need to restore these preferences later
Back in Finder, drag the original Bluetooth preference files to the Trash
Enter your Mac administrator's password to confirm
Restart your Mac to generate new PLIST files.
If your wireless Bluetooth device still doesn't work with your Mac, our experts suggest you move the PLIST file from your Desktop back into the Preferences folder and agree to Replace the new file. This will restore your old Bluetooth preferences.
Step 5. Debug your Bluetooth connections
The next step is to make your Mac forget all the Bluetooth devices you've ever used and configure them again. You can do this using the Debug options in your Bluetooth preferences. However, you may want to create a backup of your Mac first, to ensure you don't lose any important Bluetooth data.
The way you find the Debug menu varies based on your Mac's operating system.
If you're using the latest macOS Monterey the only way to debug Bluetooth is by using Terminal:
Open Terminal
Paste the following: sudo pkill bluetoothd
Enter your admin password.

If you're using Big Sur, follow these steps to reveal the Debug menu:
Open the Control Center from the menu bar
Hold Shift + Option on the keyboard
While holding both keys, click the word Bluetooth
The three Debug options appear beneath your Mac's Bluetooth information.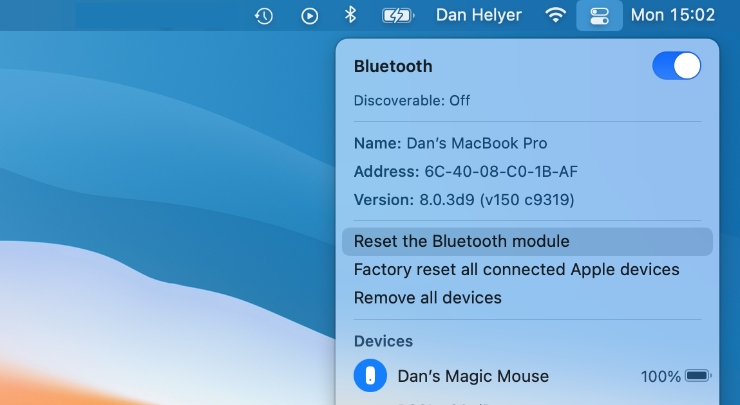 If you're using macOS Catalina or earlier, follow these steps to reveal the Debug menu:
Go to System Preferences > Bluetooth
Enable the option to Show Bluetooth in the menu bar
Hold Shift + Option on the keyboard
While holding both keys, click the Bluetooth icon in the menu bar
Hover your mouse over the Debug option.
After opening the Debug menu, you should see the following three options:
Reset the Bluetooth module
Factory reset all Apple devices
Remove all devices.
We suggest you try each option, one at a time. After choosing to Reset the Bluetooth module, connect your Bluetooth devices again to test if your Mac still says they're not available.
If your Bluetooth devices still aren't working, move on to our final debug option and then test your Bluetooth module preferences again.
Step 6. Troubleshoot your particular Bluetooth device
There is a huge range of different Bluetooth devices you can use with your Mac. Depending on which device you're using, you might need to follow different troubleshooting tips to fix your Bluetooth problems.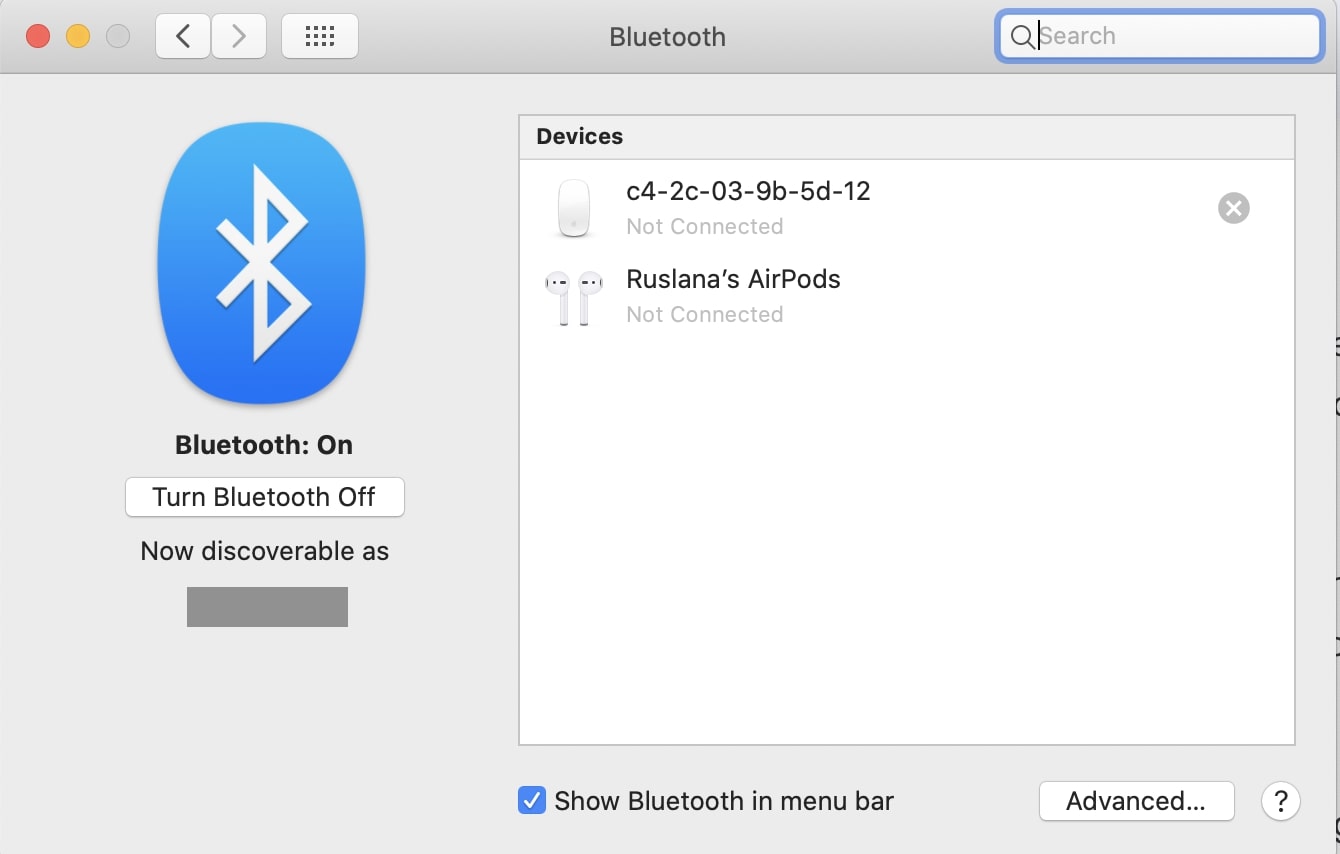 For example, in our guide on how to fix wireless mouse problems, we go into detail on changing the scrolling or tracking settings, but that won't be very helpful if you need to troubleshoot some Bluetooth headphones.
Try to find specific troubleshooting suggestions for your particular device to fix any lingering Bluetooth issues.
Read more: