If your Mac is not starting up, it can be incredibly annoying. However, whether you have a MacBook Pro, MacBook Air, or even an iMac that won't boot, this article will help you to fix this problem.
Before we start

If you want to minimize the risks of a situation like this ever happening again — keep your Mac optimized and don't clog it up with unnecessary files. It may be hard to maintain manually, but you can always make use of some extra help.

Get MacKeeper and let it clean junk, app leftovers, and duplicates from your device. It will also help you to manage your memory, install timely updates for all your apps, and reduce your Mac startup time, which in turn may lead to improved performance.
Here's what to do if your MacBook won't turn on:
1. Ensure your Mac has power
There are many reasons why your MacBook won't turn on. And to fix this problem, first, you need to determine whether your Mac won't boot because it is not charged.
To know whether it's a power problem or not:
Press the Power button
Look for signs of life such as startup chime, fan noise, or light indicators when you press the Caps Lock button, etc.
If your Mac gives none of the aforementioned signs of life, then it's definitely a power issue
How to fix it? Well, if your computer won't power on, then maybe its battery is just dead. Try charging it for five minutes at least. If it doesn't help or you've got a desktop Mac, proceed to the next step.
2. Check the hardware
Power cord check: Sounds obvious, but you should check the power cable first. Make sure that the connection to the power socket is ok and the cable itself isn't damaged
Outlet check: Make sure that the electrical outlet is working. You can simply check it by plugging in a lamp or your phone charger
Battery check: If you are using a MacBook make sure it has the right power cable and adapter. Moreover, you can try to plug it in for at least 5 minutes to charge the battery
External display check: This might sound silly, but you will be shocked by how many people actually forget to turn on their external display. So make sure it's turned on, correctly connected to your Mac, and it isn't experiencing any display issues
New RAM check: If you've recently tried to upgrade your Mac and added RAM or changed your hard drive, make sure that it's fully compatible. It's also a good idea to re-install the old memory or hard drive and check if it solves the issue
3. Perform a power cycle
When you power-cycle a Mac, you force it to restart after killing the power to it for a while. Sometimes this technique works with frozen Macs that don't respond to brief power button presses.
For MacBooks with non-removable batteries: Press and hold the Power button for 10 seconds > wait for 10 seconds > restart the Mac as usual
For MacBooks with removable batteries: Shut it down > remove the battery > wait for 10 seconds > reinstall the battery > restart the Mac as usual
For desktop Macs: Unplug the power cord > wait for 10 seconds > plug it back > restart the Mac as usual
4. Reset the SMC firmware
If your MacBook is not turning on, resetting the System Management Controller (SMC) might be a good idea.
In order to reset the SMC, do the following:
Shut down the computer
Disconnect everything from the computer but the power
When the computer is off, press the (left side) Shift + Control + Option keys and Power button at the same time. Hold all 4 keys for 10 seconds.
Release all the keys and the power button at the same time
Press the Power button to turn on the computer
The SMC reset procedure depends on your Mac model. You may find more information here.
5. Restore from Recovery mode
It's possible that some problem is affecting your hard drive if your Mac won't start up. Disk Utility is the first thing to try in such a case.
To run your Mac in the Recovery mode:
Restart your Mac
Press and hold the Command (⌘) + R key combination after the startup chime
After you boot your Mac in the Recovery mode, do the following:
1. In the macOS Utilities window, select Disk Utility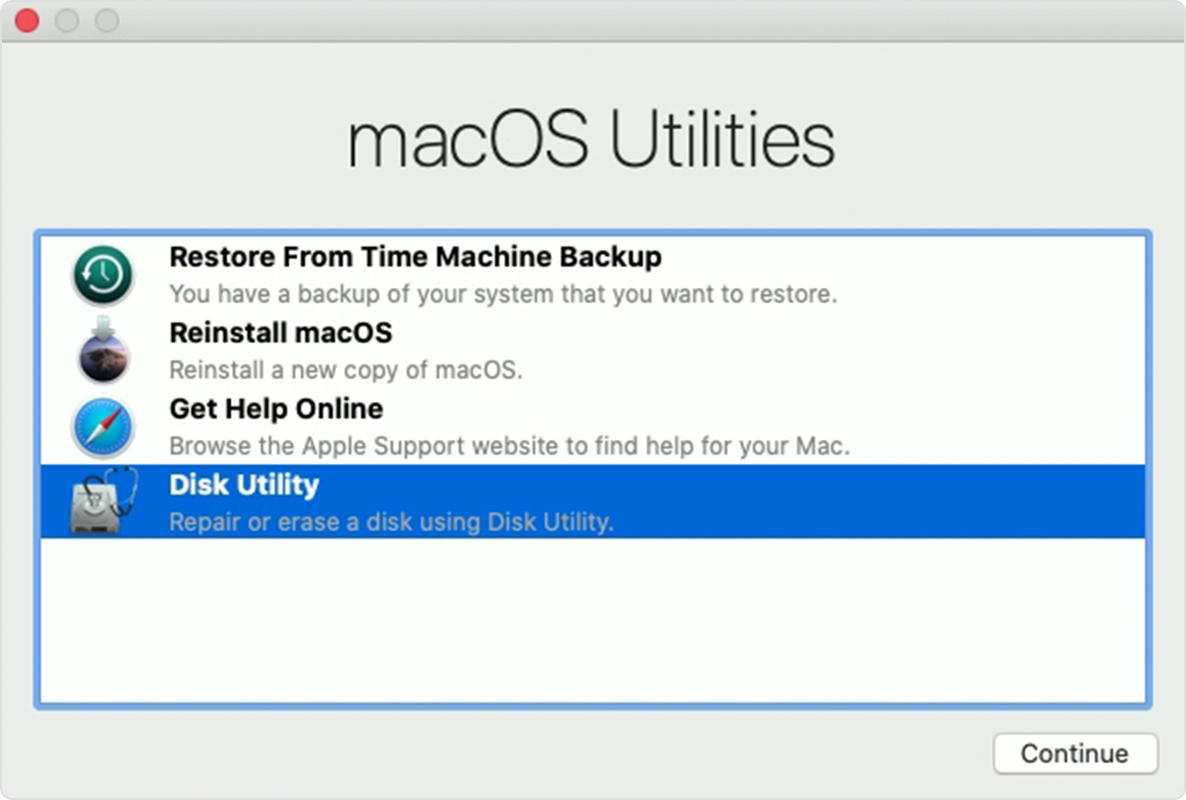 2. Click the name of your Mac's hard drive in the list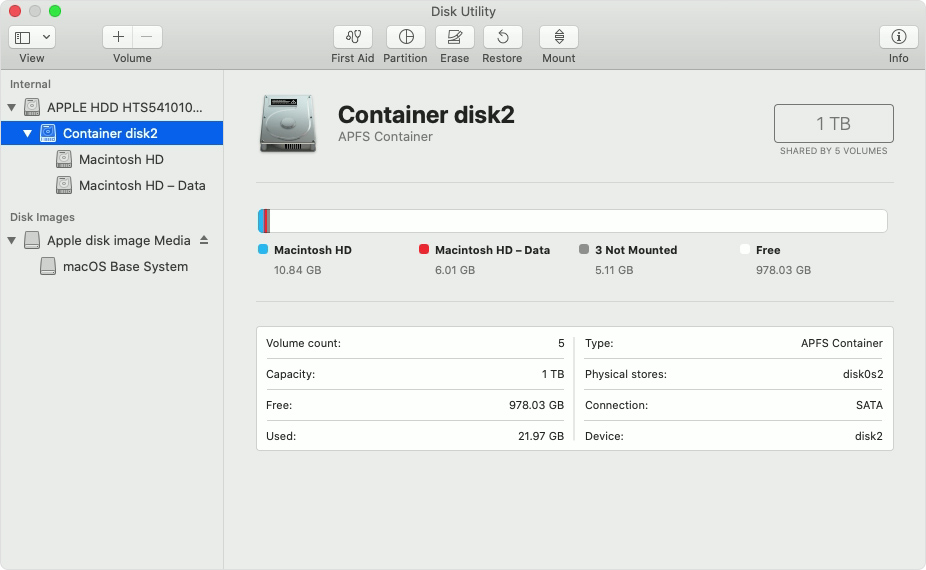 3. Click the Run or First Aid button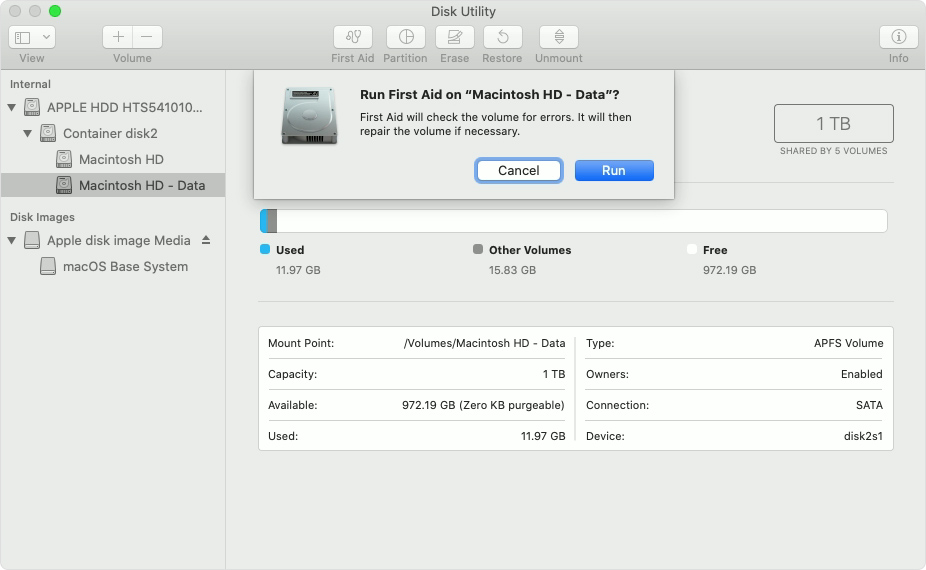 Now you should be patient until the scan is finished. If no critical issues are indicated, restart your Mac.
If the issue is not solved yet, proceed to the next step.
6. Reset the NVRAM
This step may resolve a range of issues with your machine. The Non-Volatile Random Access Memory (NVRAM) is responsible for a variety of functions.
If you experience issues with speaker volume, screen resolution, or startup disk, then the NVRAM reset can solve them.
This is also a basic troubleshooting step if your Mac won't turn on.
Follow these steps to reset NVRAM:
Restart your Mac
Press and hold the Command (⌘) + Option + P + R keys at the same time until the grey screen appears
Hold down these keys until your Mac restarts and you hear the startup chime for the second time
Release all the keys.
If you are lucky enough, it will start up. If your MacBook still won't boot up, don't give up and try the next solution.
7. Boot up your Mac in safe mode
If your Mac is not turning on, safe boot is one of the things worth trying. The safe mode limits the functionality of your Mac and lets you make certain diagnostics.
Here's how to start your Mac in safe mode:
Shut down your Mac
Wait for a couple of seconds and press the Power button
When you hear the startup chime, hold down the Shift key
Wait until you see the login screen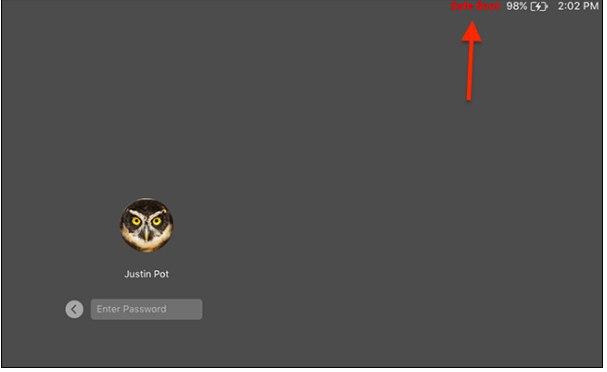 5. Log in
6. Go the Apple menu in the upper left corner of your screen and choose Restart
For more information, check this guide on rebooting your Mac in safe mode.
You would be lucky if your Mac starts up as usual after safe boot. However, If it didn't help, it's about time to proceed to the last step.
8. Reinstall macOS
Here's the last thing to try before heading to the Apple Store to repair your Mac that won't turn on. This will work out if you were able to boot your Mac in the Recovery mode as described above.
Before reinstalling macOS, first, you need to transfer your important data. Target disk mode is a perfect solution in this case.
All you need is another Mac and a Thunderbolt or a FireWire cable.
Connect both machines with a cable
Turn on your Mac while holding the T key on your keyboard to boot into target disk mode
Release the T key when the Thunderbolt icon appears.
From this moment, a broken Mac starts working as an external drive. You can transfer important files from your Mac and place them on another hard drive.
Now, after your important data is rescued, it's about time to reinstall macOS in the Recovery mode. This is a time-consuming procedure, so prepare a cup of your favorite drink and stay patient.
To reinstall macOS in the Recovery mode, you should have a valid internet connection.
Click the Wi-Fi icon at the top of the screen
Choose your Wi-Fi network
Enter the password

Now you can download macOS installer and click Install Mac macOS.
FAQs
Why is my Mac not starting up?
Your Mac is not starting up for a variety of reasons, and you can track them one by one by running this checklist:
Check the power cord
Check the wall outlet
Check the battery
Check the external display
Check new RAM compatibility
Check new hard drive compatibility
You've checked the hardware but Mac not starting up. It means you are dealing with a faulty firmware update, incompatible startup items, or incompatible software. To determine the cause of the issue, look at the Mac screen:
How to turn on a MacBook Pro?
Most MacBook Pros have no power button; instead, they have a Touch ID.
You can find this Touch ID (power button) at the top right side of the Touch Bar or function keys (F1 — F12) depending on your MacBook Pro edition.
What to do when a MacBook Pro's power button isn't working?
If the power button won't work, you can try one of the methods described above to boot your Mac, and, hopefully, it'll start up. If not, then you need to pay a visit to your local authorized Apple Store.
What does it mean when a MacBook Pro won't turn on but is charging?
It can mean a lot of things, as there are five different power states and circuits of a MacBook Pro:
Battery circuit: Since your Mac is charging, this circuit is working
G3H and S5 circuits: These are the shutdown circuits and you can check them by resetting the SMC. If the SMC reset is working, then the shutdown circuits are working properly
S3 circuit: The S3 (sleep circuit) of the S0 (full on circuit) of the motherboard is probably why your Mac won't turn on
How to fix it? This happens when you spill liquid on your computer, therefore, you might remove the logic board and clean it with 99% isopropanol. However, it's not recommended to do this unless you are a tech guru, so it's better to pay a visit to your local Apple store.
If you've already passed through all suggested steps and had no success, check out how to repair your Mac with the help of Apple technicians. Hopefully, they will find a solution for you.
Read more: