Mac Tips
February 14, 2019 | 10 min read
How to Choose the Best Mac for Graphic Design
After you've made your choice for Apple, you might be wondering which Mac is best for graphic design. We've thought ahead and gathered some information you may find useful.
Why is Mac better for graphic design?
Macs have been preferred by the world's designers for years, because Apple has always been focused on improving its handling of colors and fonts. Furthermore, the new features that are introduced with each release improve user experience, making it easier and more comfortable to design on Macs.
Apple offers integration from application to application, which guarantees a clean workflow. When it comes to testing how the results of your work look, you'll need to check visual on both Mac and Windows, as they are the most popular operating systems. While you can set up Windows on macOS, you cannot do it conversely (yep, more points go to Apple computers).
One more factor we'd recommend you to pay attention to when choosing a Mac is your lifestyle. If you work on your projects mostly on your office or home computer, a desktop system might suit you best. However, if you're a freelancer that catches inspiration in different places, consider Mac laptops, which are powerful for graphic processes as well.
"I love the macOS ecosystem in general. The UI of Apple computers make it a lot more pleasurable to work on them compared to PC. The interface feels better. The color accuracy is perfect. Plus, if you're an Apple user, transferring files between multiple devices is super easy.
What I don't like, though, is that Mac users are very limited when it comes to customizing hardware. For Windows, you can upgrade hardware to make your computer more powerful if you need it."
– Kasster, Designer and Head of Creative Services at MacKeeper
The best computer configuration for graphic design
Professional applications for designers are focused on interface design, illustration, and 3D. All of them are hungry for RAM, so consider options with at least 8GB of RAM. If you're not sure how much RAM you'll need for future projects, consider models that can be upgraded (the latest generations of MacBook Pro, the majority of iMacs, and Mac mini).
Storage is one more important thing to consider if you're a designer. Heavy software and high-resolution illustrations take a lot of memory. You can use external storage or look for a Mac with a recommended 256GB memory or more.
Considering other characteristics, almost all graphic design software will run smoothly on a 1.6GHz dual-core Intel Core i5 processor or higher. The last generation of Mac laptops with Retina display serves demanding design programs better.
As the majority of applications you'll use as a designer are intended for entire screen, think about the display you'll feel comfortable working with.
The best Mac for graphic design
We've done a thorough investigation and talked to designers from our team to find out which Macs are best for graphic design.
MacBook Pro for graphic design
MacBook Pro is considered the best laptop for web design. It gives the possibility for a designer to be mobile, while both the 13-inch and 15-inch machines are powerful enough to provide a smooth experience when using professional software.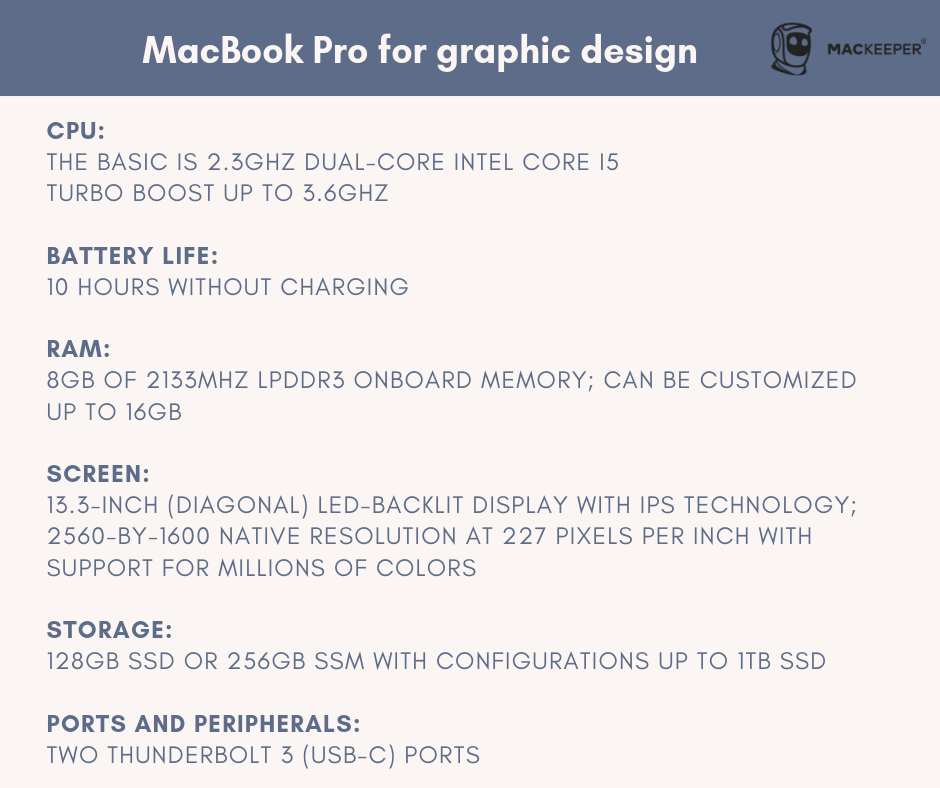 MacBook Air for graphic design
MacBook Air is the most portable among all Apple computers. With only 11.97 inches (30.41 cm) width and 2.75 pounds (1.25 kg), the latest release made MacBook Air a powerful machine that could be great for creating different types of design projects on-the-go.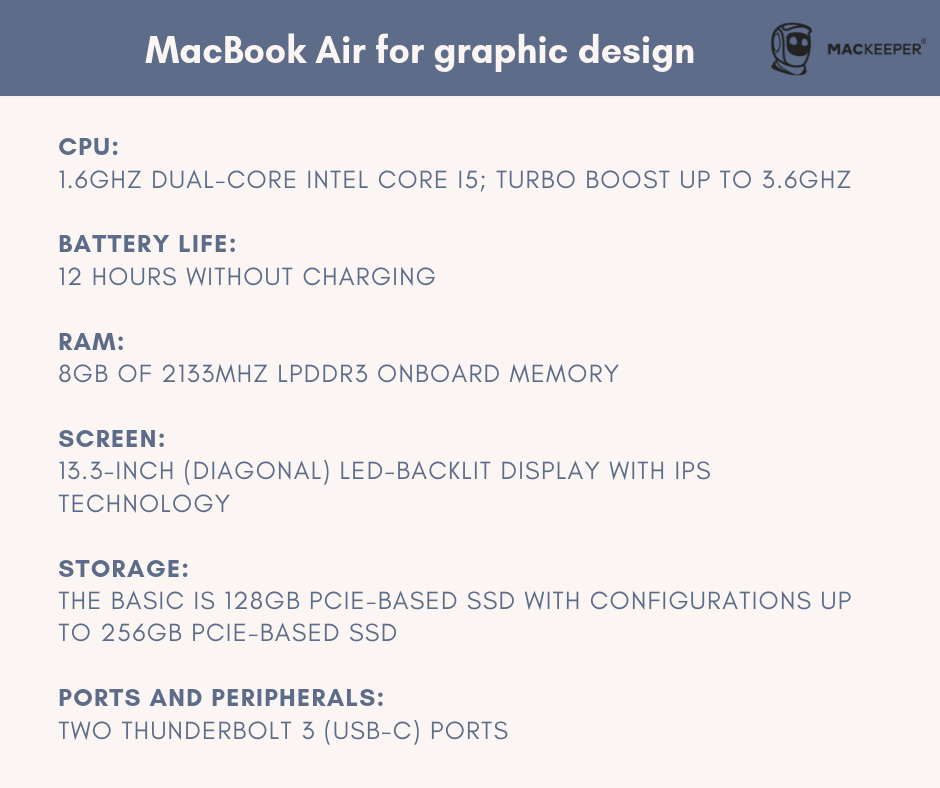 iMac for graphic design
The 27-inch Retina 5K iMac is the best option if you work with massive projects and are looking for a powerful computer for your office or home desktop.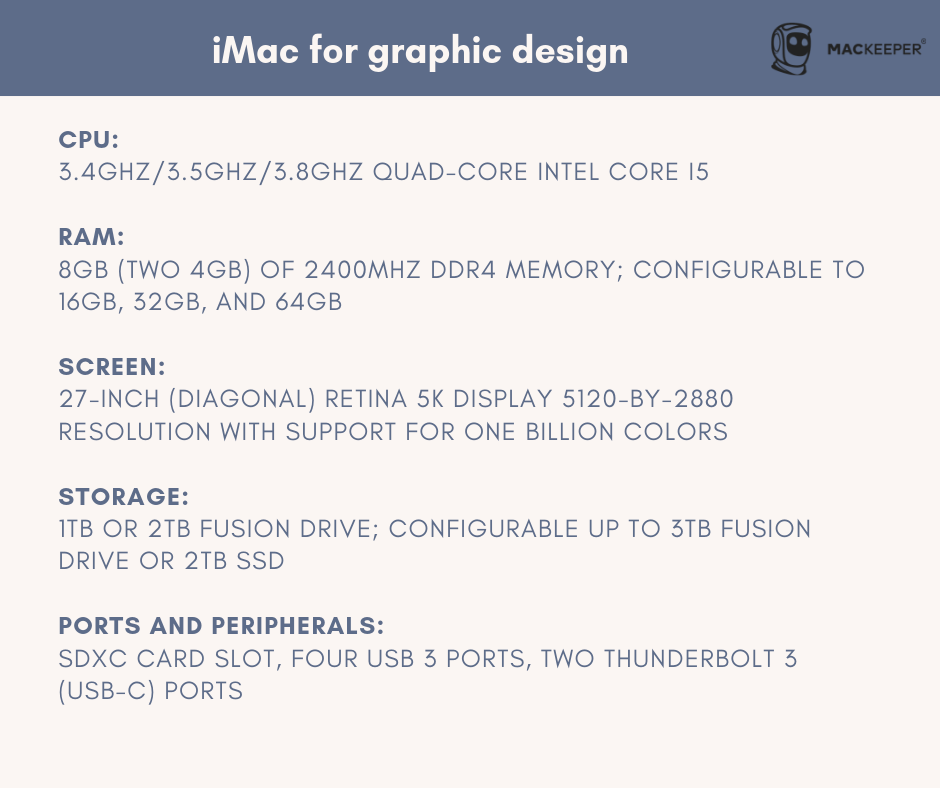 Mac vs. Windows: the best computer for graphic design
There is no single solution that can be called "the best operating system for graphic design." Everything depends on which system you find more comfortable, and also on what other devices you have—all Apple products, for example, are designed to work together.
Below are the main pros and cons of both operating systems.
The pros of Mac for graphic design:
Macs boast great native tools and programs for graphic design (which are Mac-only)
Macs can read drivers formatted for Windows
Macs generally have a smaller number of viruses and bloatware
Apple introduces innovative features each year
The cons of Mac for graphic design:
Macs are usually more expensive than PCs
Because Apple has only one vendor, its products have limited options for customization
The pros of Windows for graphic design:
It is easy to find the device you need from a wide range of Windows-based computers
Windows-based computers have more opportunities for touch-screens
Windows computers can be upgraded and customized the way you need
There are more software programs, games, and utilities for Windows because of the number of users
The cons of Windows for graphic design:
Windows have weak integration between the graphical applications and the operating system
Some users say that color calibration on the display of Windows computers is not as accurate as on Macs
"As a graphic designer who works on both Mac and Windows PC, I guess I'm in a position to compare. First of all, I want to make it clear that there are things I like about both Macs and PCs and things I hate about these two.
Here's what I really love about working on a Mac. First, color accuracy is amazing. Second, I like the way dragging and dropping works on Mac computers. On Macs, you can easily share your mockups and drafts via screenshots, it's a matter of few clicks, literally. However, there are certain aspects I don't like: I don't like Apple's Magic Mouse. There are some third-party mouses I find a lot more comfortable working with. Plus, when shifting from Windows to Mac, I usually notice how limited the keyboard functionality on iMacs is—especially, compared to a full-sized Windows keyboard.
If you're planning to buy a laptop, though, I find MacBooks a lot more effective for graphic design than Windows laptops."
–TimTim, Graphic Designer at MacKeeper
The best graphic design software for Mac
Graphics play an important role in creating the general outlook of a website, as eye-catching visuals convince a user to stay on a page. Graphic design software will help to improvise with forms, images, and models that are to be shown on a website. Besides well-known products like Adobe Photoshop and GIMP, there are also other professional programs like Adobe After Effects and Canva.
Keeping in mind the system requirements of the software you're going to use will help when choosing a Mac for graphic design. Compare the requirements on a program's official page and the technical specifications for your desired Mac.
World-renowned companies, such as Pixar and Walt Disney, choose Macs to create their masterpieces. A fact that is unsurprising because the majority of graphic designers prefer Macs for their high speed, simple file management, and outstanding design software platforms.