Apple Mail, initially released in 2003, has become the dominating mail client across all Apple operating systems. It's popular due to versatility and convenient interface, and because it supports all the main mailing clients, including Gmail, Yahoo!, iCloud, Outlook, and others. Moreover, it's integrated with other Apple apps, such as Contacts, Calendar, and Maps. The app comes by default on all Apple devices, thus smoothly sliding into the routine of every new user.
Despite the fact that the app has been around for more than a decade, it still regularly causes performance issues in Macs. If your Mail app is crashing, lagging, or freezing, read this guide to figure out the reason and learn about solutions.
Why is Mail not working on Mac properly?
The macOS update to Catalina became a reason for recurrent Mail app crashes for many. It's happened before after updates to previous macOS versions, but not to the extent it seems to occur to now.
Other users have problems with Apple Mail not working properly because of poor connection, insufficient memory, or incorrectly set up preferences. These are all typical issues that can be easily resolved — let's look at some of them in more detail.
Mail not opening on Mac
You may experience difficulties opening Mail if it's not connecting to the network or if there is an account error. In order to resolve that you must first ensure that the app's folder with all its contents is in the correct location. It should be in the Applications folder along with other apps on your Mac.
If you're using the wrong version of the app, you may see a pop-up warning. Make sure to update macOS to the latest version that is compatible with your computer. For example, macOS Catalina will not run on MacBooks that were released before mid-2012. If you've accidentally installed a version of the Mail app that is too new or too old for your Mac, you will not be able to open it.
You can also try deleting your Mail .plist files to free up some space in the Home folder. Here's what to do:
Open Finder
In the top menu bar, click on Go → Go to Folder and paste ~/Library/Containers/com.apple.mail/Data/Library/Preferences
Hit Enter
Locate the file com.apple.mail.plist and drag it to the desktop
Restart the Mac and try using Mail again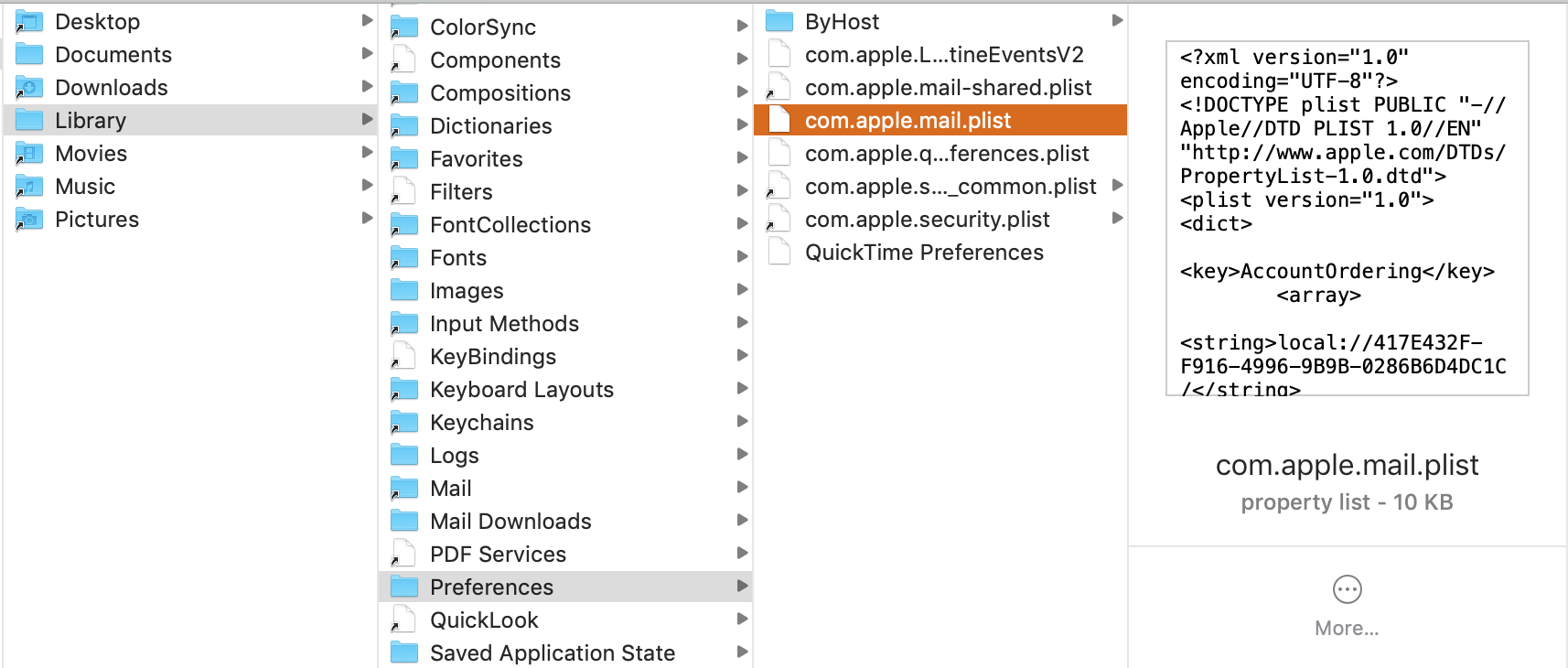 Finally, make sure you're connected to the internet. The app needs a steady network connection to function, so you won't be able to use it when offline. Use the Connection Doctor — in the top menu bar, click on the Window tab and select Connection Doctor from the drop-down list. See if the problem persists after you've run the check.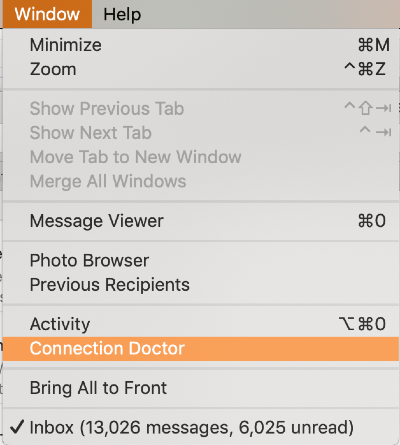 Mac Mail keeps crashing
If Apple Mail keeps quitting unexpectedly on you whenever you try to send a message or load an email, you're experiencing something that is called a "crash". It's annoying but easy enough to fix — start by force quitting the app, and if that doesn't work delete some of the preference and service agent files. You can find them in the hidden Library folder:
Launch Finder
In the top menu bar, click on Go → Go to Folder, type in ~/Library/Containers/com.apple.mail and hit Enter
You will be transferred to the Mail app's container. Go to Data → Library → Application State and delete the file com.apple.mail.savedState
Go back to the Containers folder
Locate com.apple.mail and com.apple.MailServiceAgent folders. Highlight them and move them to the Desktop folder
Restart the computer and see if the problem persists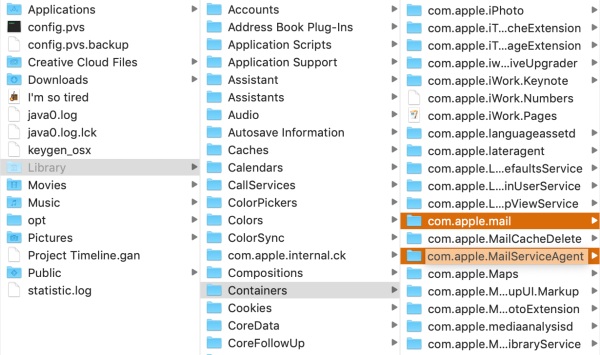 Force quit Mail on Mac
Force quitting Mail and its chaperone processes will restart the app, which might significantly improve its performance, fix an issue with Mail not responding, and fix certain other bugs. There are several ways to do that:
Through the Activity Monitor. Press Control + Space to open Spotlight and type in Activity Monitor, then hit Enter to open the utility. In the search bar in the top right corner, type in Mail. Highlight all processes and click on the cross symbol in the top left corner of the window to quit them
Through the Dock. Point the cursor at the app's icon in Dock when it's crashing and right-click on it to open a drop-down menu, click Force Quit. If you don't see the required button, hold the Option key while clicking on the icon
Through the Force Quit menu. Press Command (⌘) + Option + Escape keys simultaneously to open the Force Quit menu. Navigate through it with the arrow keys to scroll down the list until you hit the Mail app. Press Enter to close it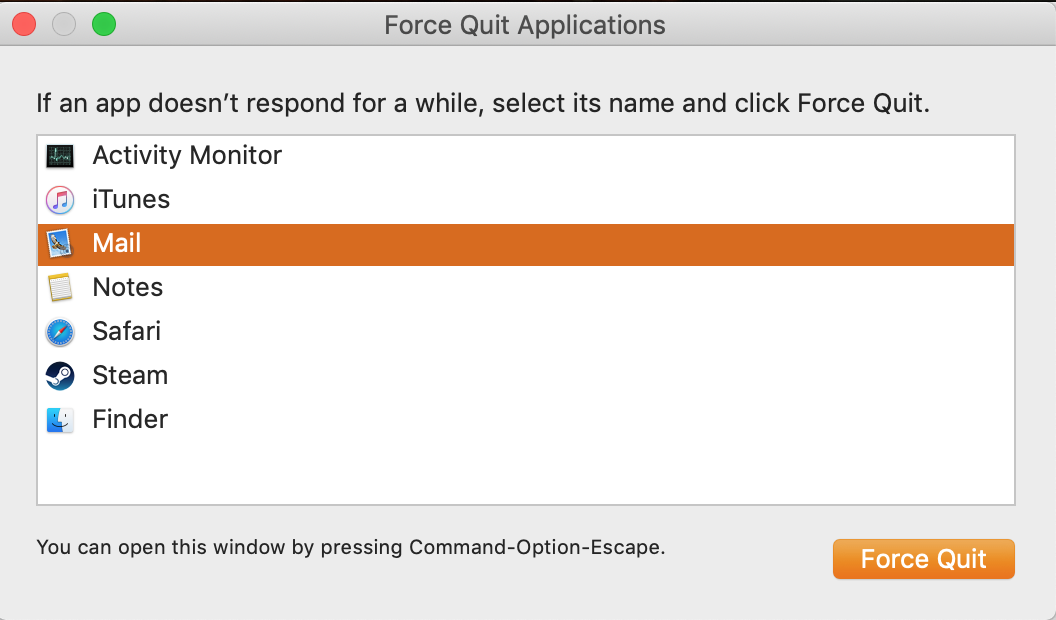 Mac Mail freezing or running slow
A slow Mail app can be a consequence of a corrupt email account or a simple update bug. If your Apple Mail freezes, you can usually fix it by doing a full restart of the system - shut down your computer entirely, wait for a short while, and power it up again. If that doesn't work, move on to resetting NVRAM:
Restart your Mac
Hold down Command (⌘) + Option + P + R as soon as it starts booting. You'll need to hold these for around 20 second
You may release the keys after you hear the startup sound for the second time or see the Apple logo twice
This won't work if one of your email accounts is corrupt. If you're using only one account, this shouldn't be an issue. However, if there are multiple, try disabling each of them sequentially in a row to isolate the faulty one. When you've found the culprit, simply delete it and add it again.
Alternatively, try launching the computer in Safe Mode. This is a helpful step to troubleshoot any issues with extensions and add-ons on your computer:
Restart the Mac
Hold down the Shift key immediately as the system starts booting
Release the key when you see the usual login screen. You can tell that you've entered Safe Mode by the "Safe Boot" indicator in the top right corner of the screen
Use a Mac Mail Rebuild Feature
Not many have heard of the "Rebuilding" feature of the Mac Mail app, and if they did, they would definitely save a lot of time troubleshooting issues with missing messages. If your emails disappear or you can't find them by using the search bar, this one's for you:
Open the Mail app
In the top menu bar, click on Mailbox
Select Rebuild from the drop-down menu
This process rebuilds your mailbox by deleting all the emails stored on your local device and replaces them with copies that are kept on the cloud server of your email client. You may have to wait for a little while depending on the number of messages in your storage.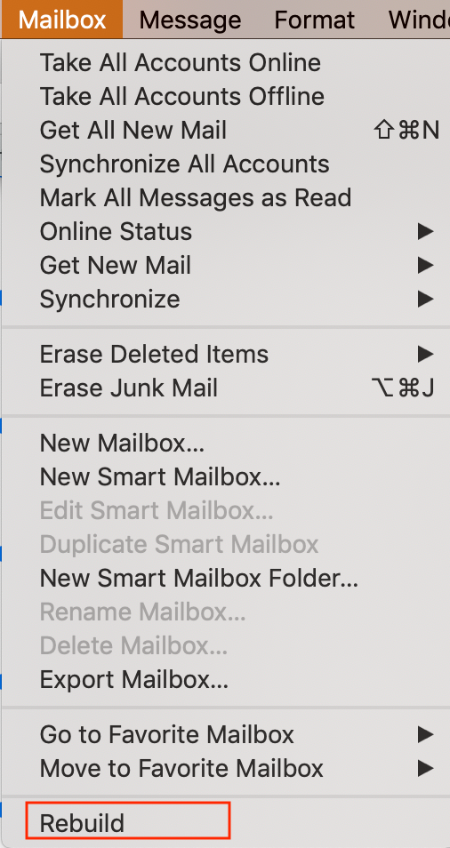 Read More: