The cursor is absolutely essential in operating a computer to pretty much anyone. A generic user most probably has no clue how to use the command line, and therefore requires a mouse or a trackpad in order to use their tech. Naturally, any issues related to the cursor cause a lot of frustration and halt whatever work you do when they happen.

Before we start


If you're lucky, your Mac cursor is frozen by something minor. But sadly, it's also true that problems like this can be caused by malware, either deliberately or as an unintentional side effect. Should you find yourself in such a situation, it might help to run an antivirus scan with MacKeeper to see if that's the cause or not.

Run MacKeeper, and select Antivirus from the menu on the left

Click Start scan

Wait while MacKeeper searches your Mac for malicious files

If anything malicious is found, let MacKeeper remove it for you

Hopefully, there's no malware on your Mac, but if there is, MacKeeper will take care of it. If you'd like to try MacKeeper for free, you can, with one free fix and no obligation to buy.

Whether it's your trackpad freezing or the cursor acting abnormally, there are a number of solutions for such problems on Macs. Let's get into it and figure out how to resolve your specific issue.
MacBook Pro cursor is frozen
If your cursor keeps freezing and is constantly stuck in the same position, you will see a spinning rainbow wheel indicating the problem. When you have mouse-related concerns, the options might be limited since you are restricted to the keyboard. So what do you do?
Here are a few things you can try:
Restart the Mac. Although it seems basic at first, this step is actually used to troubleshoot a lot of issues with macOS and will most likely work when it comes to a frozen cursor
Force Quit menu. If the glitch started as you were launching or using a particular app, the easiest way out is to exit it. However, since the app is not responding, simply closing the window is not an option — you must force quit it through the Force Quit menu. This is the only available way as you can't use the mouse. Press Command (⌘) + Option + Escape to open it and navigate to the problematic app with the arrow keys, then press Enter once you've located it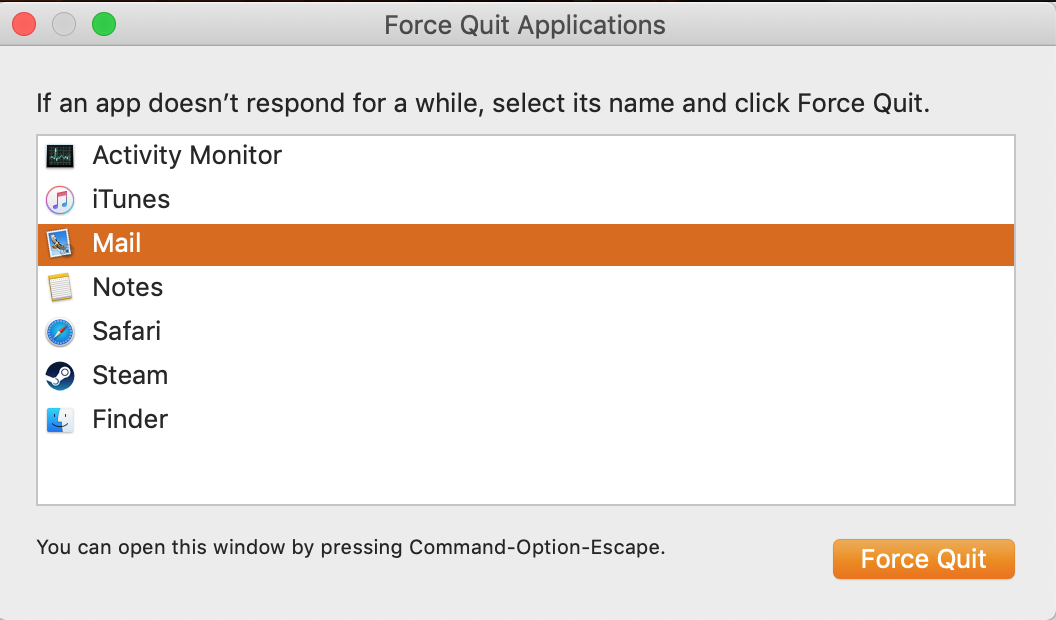 Reset the SMC. The system management controller (SMC) is responsible for numerous fundamental functions of your MacBook, such as power management. Restarting it may be helpful in troubleshooting general performance issues. To do it, restart the Mac and hold down Shift + Option + Control keys as soon as it starts booting. Hold for about 7 seconds, then add the power button to the combination and hold for a further 10 seconds. Then release all the keys and restart the computer normally
MacBook Pro trackpad erratic cursor dance fix
The dancing cursor issue starts with your MacBook freezing for a few seconds. At first, it will seem to go away, but soon strange events will follow: a jumping cursor, the browser having a life of its own, display settings changing rapidly.
Although this malfunction is reminiscent of the classic PC behavior caused by certain viruses, in the case of Macs this is an unlikely scenario. It doesn't hurt to do a malware scan, especially if you suspect you've been targeted by phishing. Otherwise, your standard solutions will fail — resetting the SMC or NVRAM is pointless in this situation.
So what does help? All you need to do is to tweak a few settings in System Preferences. Here's a step-by-step guide:
Click on the Apple menu in the top left corner of the screen and select System Preferences from the drop-down list
Go to Accessibility settings
In the side panel on the left, scroll down until you see the mouse and trackpad option
Open the settings and check the box next to Ignore built-in trackpad when mouse or wireless trackpad is present
If the cursor doesn't return to normal instantly, restart your computer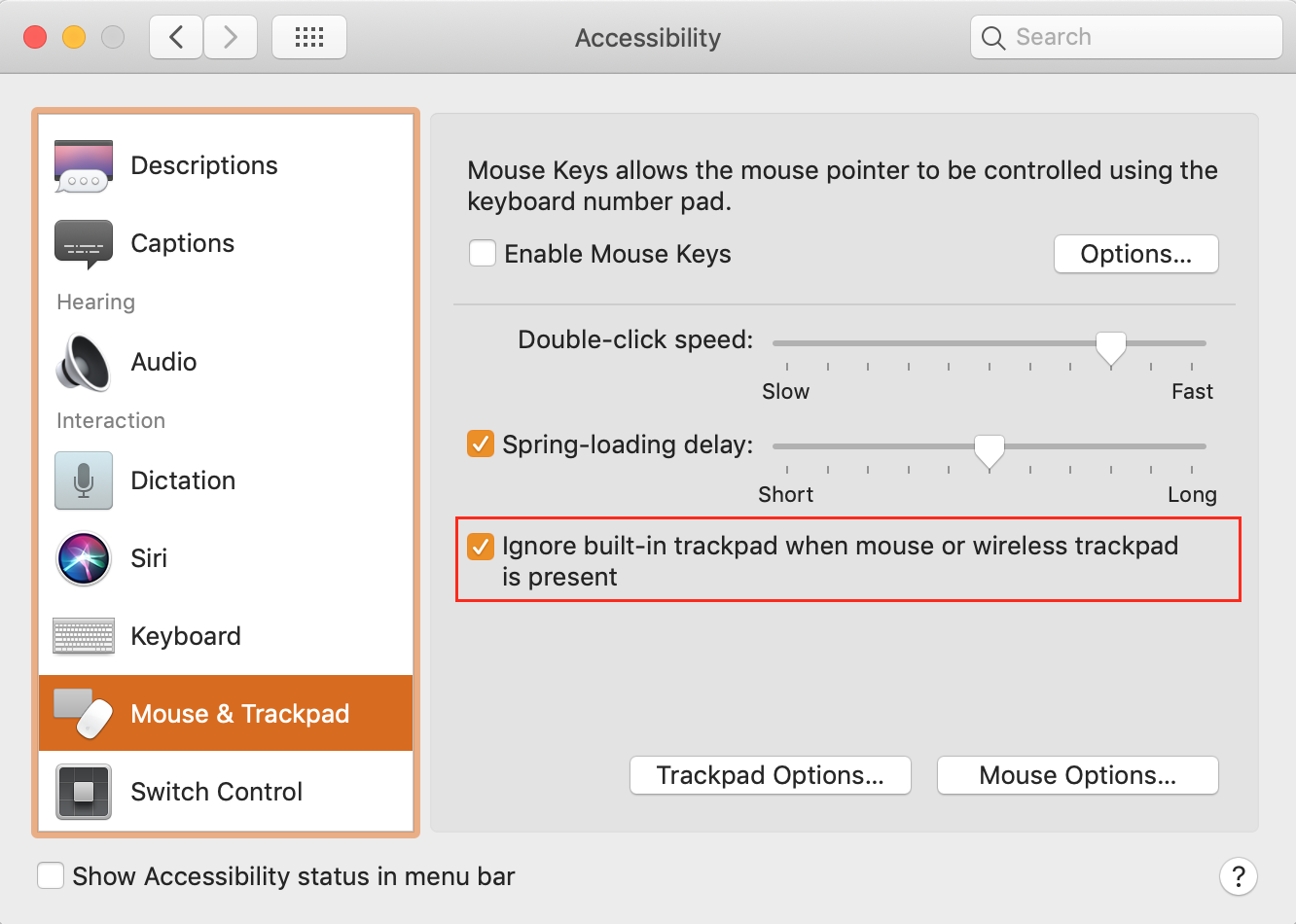 Mac trackpad keeps freezing
The trackpad freeze is a common issue and is often accompanied by Mac screen blanking out. It can't be solved by an SMC or NVRAM reset — the best way to approach it is through Safe Mode. This is a Mac tool that allows isolating a problem to see whether it arises from a particular app, login item, or extension. To launch it, restart your computer and hold down the Shift key immediately after it starts booting. Then log in as normal — you will see the Safe Boot indicator in the top right corner of the screen.
If your trackpad is still acting up after launching in Safe Mode, it's most likely that you have conflicting login items. Go to System Preferences → Users and Groups → Login Items and delete any unnecessary applications that you don't need to open when you start up the computer.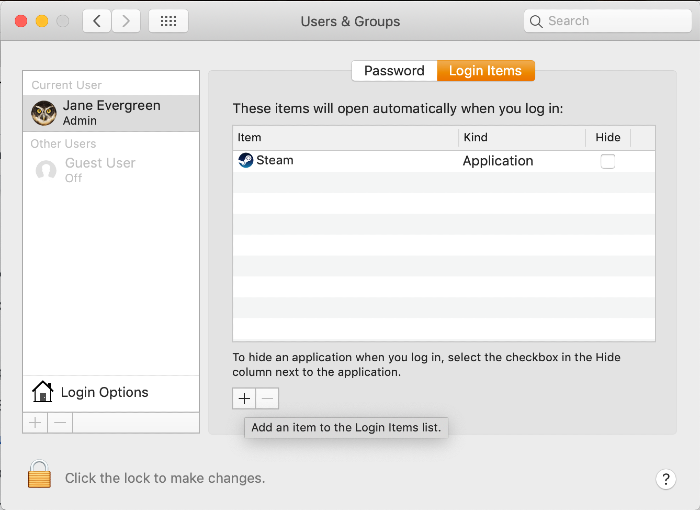 See if the problem still exists if you use your Mac from a different user account. In the same Users and Groups tab in System Preferences, create a new account and log in to it the next time you restart your Mac.
MacBook Pro cursor disappears
This is a rather rare occurrence, but it leaves the affected users lost when it does happen. The cursor itself is still usable — you can click on tabs, icons, and links, but because it's invisible the process becomes torture.
The phenomenon is most likely to happen when you're due to run out of memory or use CPU-heavy apps and browsers with dozens of tabs open. Thus, the most logical way to make your cursor reappear is to quit all the apps that are currently running. There are three ways to force quit:
Via the Dock. Point the cursor at an app's icon in the Dock. Even though it's invisible, you will know that you are in the right position when you see the app's name show up. Hold the Option key and right-click on the icon, then click on the Force Quit option.
Through the Force Quit menu. This is the optimal option as it doesn't require the use of the mouse. Press Command (⌘) + Option + Escape to open the Force Quit menu and use the arrow keys to go up and down the list. Press Enter to close any apps.
Through the Activity Monitor. Press Control + Space to open Spotlight Search and lookup Activity Monitor, then press Enter to open the app. In the menu on top of the screen, click on View → Windowed Processes to display all the currently active apps. Select each one (Command (⌘) + A) and click on the cross in the top left corner.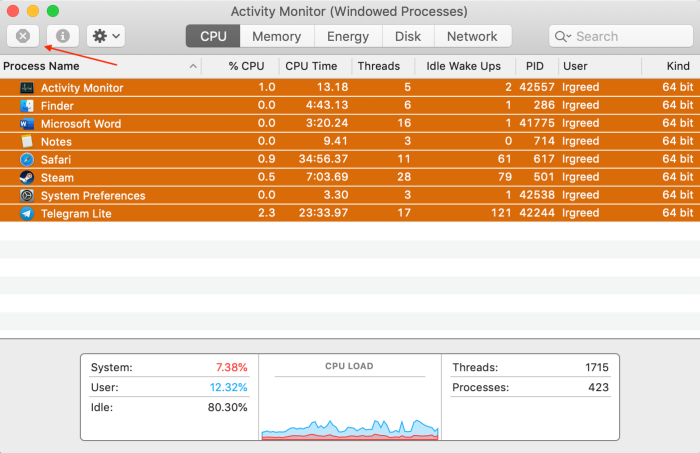 If neither work, restart the computer.
Mac mouse keeps freezing
Mouse and keyboard issues are common both with wired and wireless devices connected to Mac. Even Mac's own Magic mouse can cause problems. The first thing to do is, of course, to check whether the Bluetooth connection needs fixing and to make sure that the mouse is charged. If that's in place but the problem persists, try unplugging all of your peripherals: monitors, printers, tablets, keyboards, etc. If you're using a mouse with a MacBook, go to System Preferences → Accessibility → Mouse and Trackpad and tick the box next to Ignore built-in trackpad when mouse or wireless trackpad is present.
A frozen mouse can be tackled by resetting the SMC and NVRAM:
To reset the SMC, restart your Mac and hold down Shift + Control + Option key as soon as it starts booting. Hold for 10 seconds, then add the power button to the combination and hold for a further 10 seconds. Release the combination and startup the machine normally
To reset NVRAM, restart the Mac and hold down Command (⌘) + Option + P + R when it starts booting. Hold the keys until you hear the second startup chime or see the Apple logo twice. Then release the keys and log in normally
Conclusion
As you can see, most problems with your cursor you can easily solve on your own. Follow this guide to avoid unnecessary waste of time and money at the service center.