There is a widespread notion that Apple computers don't get viruses. However, it is not true and Macs can be infected with malware. More and more Mac viruses are discovered regularly. Let's have a closer look at a recently detected threat.
Is There a new Mac Trojan Virus?
Yes, researchers have just found a new Trojan virus developed specifically for macOS devices [1]. It was given the name Trojan.MacOS.GMERA.
Wait, What is a Trojan Virus?
It is a harmful computer program disguised as legitimate software. Similarly to a legendary Trojan horse that helped Greeks invade Troy, this malware looks like a "gift" and appears to be a weapon.
In this recent case, the malware was imitating Stockfolio, a stock-trading app. The malicious program was distributed through various file-hosting websites. This way, the users who downloaded the app from an unofficial source encountered the threat.
Trojan.MacOS.GMERA provided the attackers with details about the infected computers, including usernames, hardware configuration, available software, and files. Moreover, the Trojan enabled hackers to send remote commands to the victims' computers. They were able to further infect the machines with malware, undermine their security mechanisms, access files, and hold other harmful activities [2].
In fact, two samples of this Mac malware were found and dubbed, respectively, Trojan.MacOS.GMERA.A and Trojan.MacOS.GMERA.B. The second version of this Trojan virus is even more efficient, enabling it to stay active even after system reboots.
How MacKeeper fights Trojan.MacOS.GMERA?
At MacKeeper, we keep up with all the arising cyberthreats to protect our users effectively. MacKeeper Anti-Malware Lab has detailed criteria to identify malicious software. Whenever a new threat appears, our experts include its technical description into MacKeeper. Thus, our users get reliable malware protection.
So, we have added the description of Trojan.MacOS.GMERA right after its discovery, and now MacKeeper is ready to protect you from this threat as well as from many other ones.
How to Remove Trojan.MacOS.GMERA?
For efficient Mac malware removal, make sure you have the latest MacKeeper version:
If you already use MacKeeper, let our support team check whether you have the latest application version.

Go to the "Antivirus" tab in MacKeeper. Press "Launch Antivirus".

Enable a real-time protection and click "Start scan".

After the system scan, MacKeeper will detect and get rid of any malware or suspisious programs from your Mac.
Are there many Mac Viruses?
The malware designed for Windows computers is indeed more widespread than Mac-targeted ones [3]. However, it doesn't mean there are few threats to macOS devices. The graph below illustrates a steep increase in Mac malware development.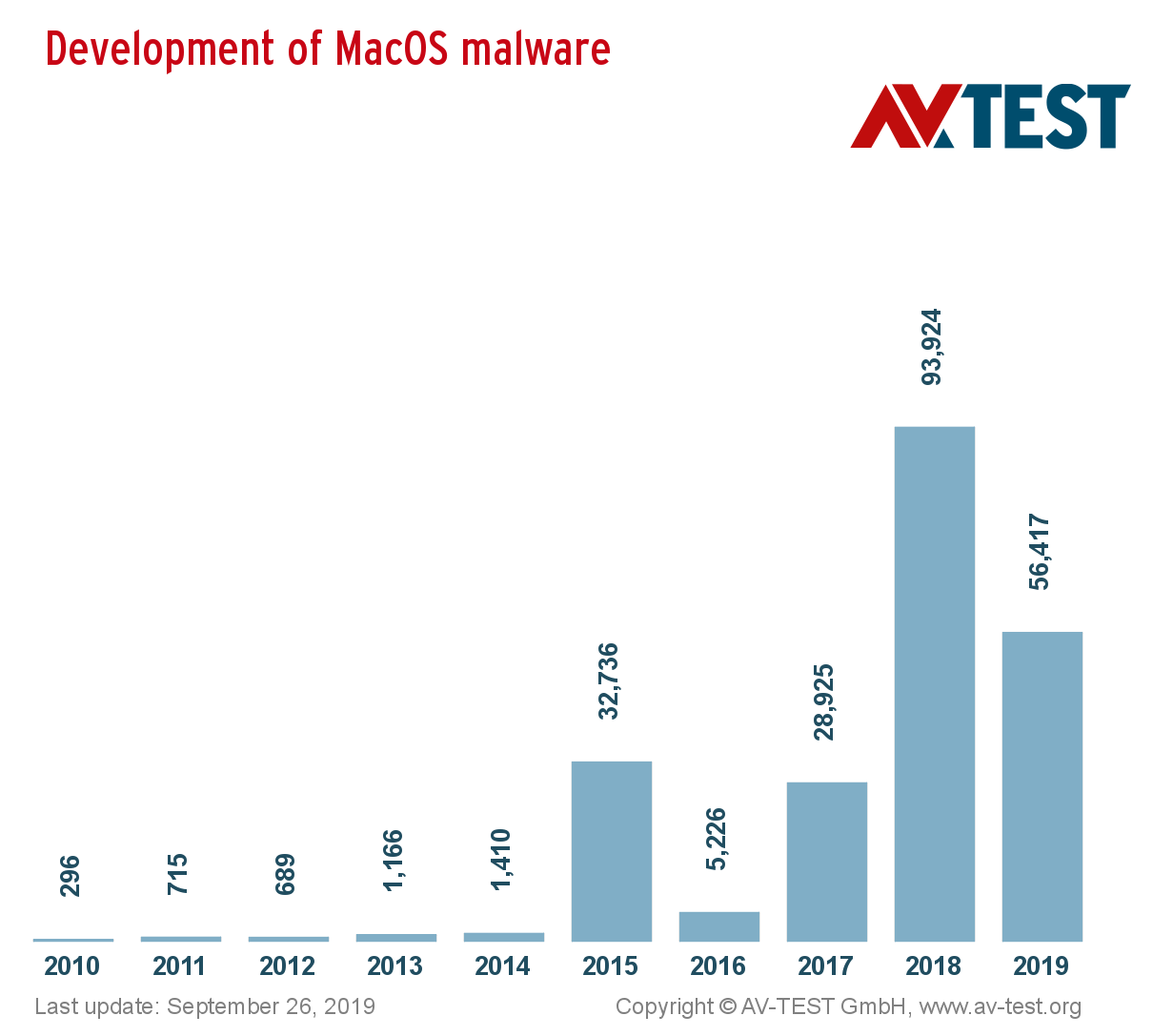 With so many Mac viruses out there, it really makes sense to protect yourself from them.
How to stay safe from Mac viruses?
It is not that hard! Just follow a few practices to stay safe.
Use a reliable antivirus solution
Make sure you've got good Mac antivirus software. Upon its installation, run a manual check and turn on real-time protection. Make sure your antivirus is regularly updated and protects you from all kinds of threats, including adware.
Keep your operating system updated
Operating system developers constantly upgrade their built-in protection mechanisms so it's best to always use the latest OS. For your Mac, we recommend macOS Catalina which will become available in October 2019.

Use the latest versions of web browsers
A browser is your main way of exploring the web which is why you have to get the best out of it. Be sure to ditch the discontinued Internet Explorer in favor of Safari, Chrome, or Firefox. These browsers get regularly updated, so be sure to have their latest versions. They also have integrated solutions to protect you from online threats. Make sure they're turned on:
Safari: go to the Safari menu in the upper left corner > select Preferences > select Security > make sure Warn when visiting a fraudulent website is checked
Google Chrome: go to the Chrome menu in the upper right corner (the three dots) > select Settings > click Sync and Google services > under Other Google services, check whether Safe Browsing is enabled
Mozilla Firefox: go to the Firefox menu in the upper right corner (the three lines) > select Preferences > click Privacy & Security > check all the boxes in the Security section
Enable System Integrity Protection and Gatekeeper for your Mac
If you use OS X 10.8 (Mountain Lion) or newer, there is a feature called Gatekeeper. It prevents installation of unknown applications to protect you from malware. Later, in OS X 10.11 (El Capitan), another security mechanism called System Integrity Protection (SIP) was added. Make sure both Gatekeeper and SIP are enabled.
Gatekeeper: go to the Apple menu in the upper left corner > select System Preferences > click Security & Privacy > in General section, select App Store and identified developers under Allow applications downloaded from:
SIP: go to Finder > select Applications > select Utilities > click Terminal > type csrutil status in an opened window. Make sure the following message appears: "System Integrity Protection status: enabled"
Download software from official sources
As the case with Trojan.MacOS.GMERA proves, those who download applications from unofficial websites and app stores risk getting malware instead of a legitimate program.
Be cautious about emails and instant messages
If you receive a suspicious email or message, never open the attachments it has and don't click the links within. This is a way to start downloading a malicious file. If the message looks strange or irrelevant, delete it for good. If the sender is familiar to you, contact them in an alternative way to verify if the message is genuine. Learn more about the techniques used to lure personal information via email.
Beware of popup ads
Similarly to links and attachments in suspicious letters, fishy banners may lead you to getting viruses instead of advertised goods. Avoid them or consider getting an ad blocking solution.
Moreover, it is important to stay vigilant and protective of your privacy and as yet uncompromised information. The more you know about how to protect your personal information online, the better. Luckily, there are digital tools that can help you keep an eye on all your accounts and react quickly should something suspicious happen, like ID Theft Guard, a new tool within MacKeeper. After you create an account and add your email address, you can run a one-time scan to check for compromised data.
Sources
[1] https://securityintelligence.com/news/mac-malware-masquerades-as-trading-app-to-steal-and-upload-users-data/
[2] https://www.enigmasoftware.com/trojanmacosgmera-removal/
[3] https://www.av-test.org/en/statistics/malware/