July 08, 2020 | 7 min read
3 Easy Ways to Delete Files on a Mac
Three is a crowd, but not when it comes to these 3 fast ways to delete files from your Mac. Which one do you use most frequently?
Drag a selected file to the Trash folder pinned to the Dock
Right-click a file you want to delete—choose Move to Trash from the menu
Hold down the Shift + Command (⌘) + Delete keys
Note that by using any of these three steps the deleted files will be moved to the Trash. They will still occupy storage on your Mac. To completely delete them don't forget to empty the Trash.
How to permanently delete files on a Mac (without sending them to Trash)
Moving a bunch of burst photos from your photo gallery and then deleting them manually from the Trash might become tiresome. To save energy for a more pleasant Mac routine, let's see how to permanently delete unnecessary files without sending them to the Trash bin.
Use the hotkeys:
Highlight the items you want to remove
Hold down Alt (Option) + Command (⌘) + Delete keys
Click Delete on a popup with the friendly Finder icon

Use the menu option:
Mark the files you want to delete
Click on the File next to the Finder in the menu bar
Press Alt (Option) key—choose Delete Immediately
The first option is faster, no doubt. However, the second one may come in handy when your keyboard is acting up or if you're not that into using hotkeys.
How to delete files on a Mac that won't delete
Dragging a file to the Trash bin or using hotkeys don't always work. Some files are harder to delete. Getting warning messages indicates that your Mac is having some trouble with that item.
This may happen because of many reasons—the file might be corrupted or some application is using it at the moment.
One of the ways to delete an undeletable file is to boot your Mac in Safe Mode:
Shut down your Mac
Turn it on and immediately hold the Shift key
Log in in Safe Mode—look for the undeletable file—send it to the Trash
Open the Trash bin—click the Empty button
How to delete files that are in use
Have you ever been stopped from deleting an app or some other files by getting such a message?

To fix this, follow these steps:
Close the app or the file you're trying to delete and try deleting it once again
Restart your Mac if the previous step didn't help and repeat the attempt
How to delete locked files
When dragging a locked file to the Trash you'll need to confirm this action by pressing the Continue button on the popup, like here:

In addition, you can try unlocking this item:
Highlight the file you want to remove
Right-click it—choose Get Info from the menu or press Cmd + I keys
Untick the checkbox next to Locked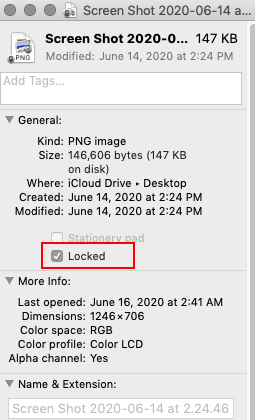 Note: To untick the locked files you need to be logged in as the administrator.
How to delete hidden files
Some hidden files on a Mac may be junk files or useless leftovers cluttering your Mac's hard drive. But it's not all that simple with hidden files. Before deleting such items you need to make sure you know what you're deleting.
Check out our guide with multiple ways of locating and dealing with hidden files on your Mac. In a nutshell, you'll need to make hidden files visible and then delete them as described above.
How to delete iOS files on a Mac
Manage storage tool is one of macOS' hidden treasures. Using it regularly helps a great deal to free up space from unused and old files. Old iOS backups may take up a considerable amount of GBs on your Mac. So, if you don't need an old iPhone backup:
Click on Apple logo—About this Mac
Go to the Storage tab—click on the Manage button
Navigate to the iOS Files tab—choose the iOS backup you won't need anymore—click Delete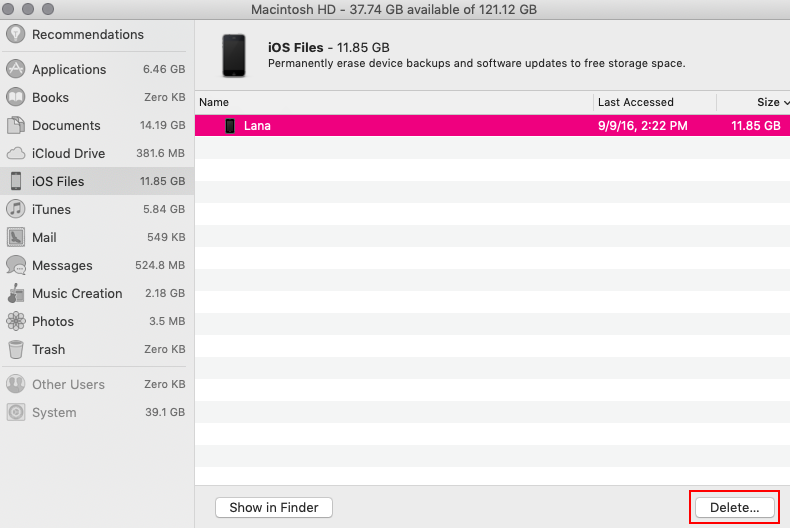 How to restore deleted files on a Mac
If you're wondering if it's possible to recover deleted files on Mac—the answer is YES! Knowing a few tricks can be a real time saver. Depending on which types of files you want to recover—you'll need a different approach. Not to click around the internet—learn how to restore different deleted files from your Trash, photos, or music from iTunes.

Read more: