Mac Tips
Updated: July 03, 2020 | 9 min read
Apple Magic Mouse Not Working? Here's How to Fix It
Magic Mouse got its name for a reason. It helps numerous customers of Apple devices to make their MacBook user experience as simple and convenient as possible. Additionally, many users prefer to move the cursor with a mouse in their hands, even when using a portable Mac.
To satisfy such an important need, in 2009 Apple invented a wireless mouse, called it Magic Mouse, and presented the revolutionary Multi-Touch technology. With Multi-Touch, users can navigate by using intuitive finger gestures. Instead of mechanical buttons, scroll wheels, or scroll balls, the entire top of the Magic Mouse is a seamless Multi-Touch surface.
Back in 2015, Apple upgraded the Magic mouse to the second version. This new version isn't really that much different from the first one. The Magic Mouse has a built-in rechargeable lithium-ion battery, so it no longer needs a removable battery cover, and the Lightning port for battery recharging replaced the latch for the cover.
When a major part of users has switched to Magic Mouse 2, they experienced some problems and weaknesses, like the Magic Mouse not turning on, losing connection, or having a short battery life. Many have also complained about the inability to use a Mac mouse while charging. If the battery and charging issues are more or less easy to solve, the Bluetooth problems remain a weak spot of the Magic Mouse.
That is why we've decided to share several useful steps to make your Mac operation more convenient.
How to fix Magic Mouse not working
Make sure your Magic Mouse is charged
To check the battery level of your Magic Mouse:
Click the Bluetooth icon in your Mac's menu bar—choose your wireless mouse
If the battery level is low, recharge it
If the mouse isn't showing, make sure it's turned on
Fix Mac mouse not working after battery change
Turn off your Apple mouse
Go to System Preferences—Bluetooth—turn it on
Hold down 'click' action on Apple mouse then turn on the mouse. Make sure you hold down the click while it turns on
Pair your Apple mouse to your Mac
Apply a piece of foil to increase the battery terminal contact
Open the battery cover
Take a small piece of aluminum foil (the size should be about ½-inch square)
Wrap the aluminum square around the negative terminal of the battery
Insert the batteries back into the mouse
This would strengthen the contact, which can be dropped when you move a mouse, and may easily fix the situation when your Mac mouse won't connect.
Apply a piece of paper on the batteries
Open a battery cover
Take a rectangular piece of paper of about 1 inch by 1-½ inches
Put the paper on top of the batteries (roughly centered) and cut off any excess paper around the edge of the batteries
Insert the batteries back into the mouse
This paper would serve as a wedge between the batteries and the cover holding the batteries in place.
Note: It's impossible to apply the described manipulations to the Magic Mouse 2 because it has a USB charging port instead of rechargeable batteries inside. In this case, there are some other tips that you can try to fix the Bluetooth connectivity between your Mac and your Magic Mouse 2.
How to fix Magic Mouse or Magic Mouse 2 not connecting
Turn off your Mac's Bluetooth system and then turn it back on
Open System Preferences—go to Bluetooth—click the Turn Bluetooth Off button
Wait a few seconds—click it again to turn the Bluetooth back on
Check if the wireless mouse is working now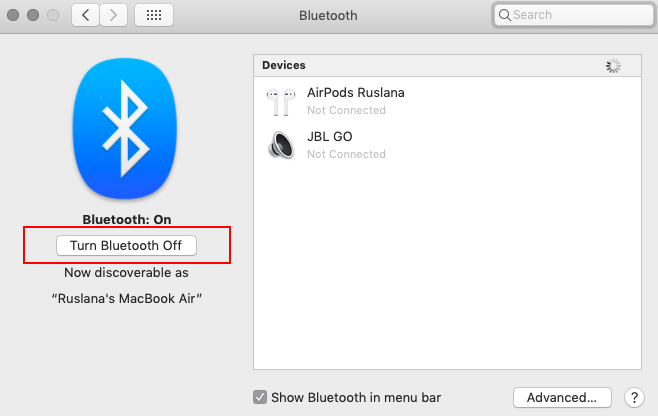 Disconnect the mouse from the Mac—then pair again
If your Apple wireless mouse is losing connection or isn't still discoverable by your Mac after following the tips above—turning your Magic Mouse off might help. This trick also helps in many attempts to establish connectivity. To disconnect:
Click on the Bluetooth menu in the menu bar and look for your Magic Mouse on this list
Click on it—choose Disconnect from the submenu
Enter the pairing mode again
Magic Mouse still not working or losing connection? Find out what else you could try to fix Bluetooth connection problems.
How to reset Magic Mouse
This option will make your Mac forget about all Bluetooth devices that you have ever used, forcing you to reconfigure each of them. To reset Magic Mouse do the following:
Click on the Bluetooth menu in the right upper corner of the menu bar
Hold down the Shift+Option keys—then click the Bluetooth menu again. You will see the drop-down menu showing several hidden items
Click Debug—Remove all devices
Hold down the Shift+Option keys once again—open the Bluetooth menu. Choose Debug once again—Reset the Bluetooth Module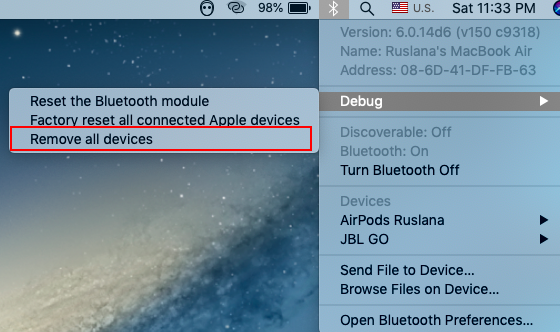 After you clear the Bluetooth System, you can use repairing mode for your Magic Mouse 2 and pair it and other Bluetooth devices that have been removed.
Other ways to fix Magic Mouse
If your mouse is still not connecting or turning on properly—try these alternatives to fix the issue with your wireless mouse.
Upgrade your macOS
If Magic Mouse 2 one finger scroll option doesn't work, the solution might be in upgrading to a newer version. You see, to enjoy all Magic Mouse 2 features you'll need a higher macOS version. So, for Magic Mouse 2 you'll need to run OS X El Capitan (version 10.11) to enjoy all of its features. For Apple Magic Mouse OS X Leopard (version 10.5) is enough.
Considering upgrading to the most recent macOS version? Learn how to download and install macOS Catalina on your Mac.
Set up Magic Mouse preferences
Sometimes default settings for Magic Mouse confuse Mac users. To make the mouse's tracking speed slower or faster, choose scroll direction, or turn on right-click:
Go to System Preferences—click on Mouse

Besides, practicing Magic Mouse gestures is also a good idea. We wish you a pleasant experience with this Apple mouse!