Updated: October 20, 2020 | 8 min read
Apple Magic Mouse Not Working? Here's How to Fix It
Before we start


You can fix the majority of poorly performing apps and devices by simply updating them or your current macOS. We know it can be hard keeping track of all available updates but it doesn't need to be a problem any more.


All you need to do is install MacKeeper and it'll notify you of all available updates and help you update everything in a click.
It's as easy as it sounds—try it now!
Magic Mouse is a must-have if you want to make working on your Mac as convenient as possible. Multi-Touch and sleek design have made it a cool accessory for MacBooks, iMacs, and Macs Mini. However, it's not all as magical as it sounds. From time to time, Mac users experience some issues with Magic Mouse and Magic Mouse 2.
If you are a confident Mac user, you must have bumped into the following difficulties with your Apple mouse at least once. So, why would Magic Mouse not be working? Why does it keep disconnecting for no reason? Or Magic Mouse 2 not scrolling correctly when editing in Word documents or surfing in Google Chrome? You'll find the answers and fixes to these problems in this article:
How to fix Magic Mouse not working
If you're not using a trackpad or when you're the owner of an iMac—Magic Mouse not responding makes you take a deep breath and google the solution.
Make sure your Magic Mouse is charged
To check the battery level of your Magic Mouse:
Click the Bluetooth icon (in the menu bar)—choose your wireless mouse
If the battery level is low—just recharge it
If the mouse isn't showing—make sure it's on
Fix Mac mouse not working after battery change
Turn off your Apple mouse
Go to System Preferences—Bluetooth tab—turn it on
Press the "click" action on your Apple mouse—then turn on the mouse. Don't forget to hold down the click while it turns on
Pair your mouse to your Mac
Clean the contacts
Try this if you've been using the same rechargeable batteries for quite a while:
Soak cotton buds with a contact cleaner or 70-90% alcohol
Take out the batteries. Clean both—battery contacts and the Magic Mouse's contacts
How to fix Magic Mouse or Magic Mouse 2 not connecting
Turn off your Mac's Bluetooth system and then turn it back on
Open System Preferences—go to Bluetooth—click the Turn Bluetooth Off button
Wait a few seconds—click it again to turn the Bluetooth back on
Check if the wireless mouse is working now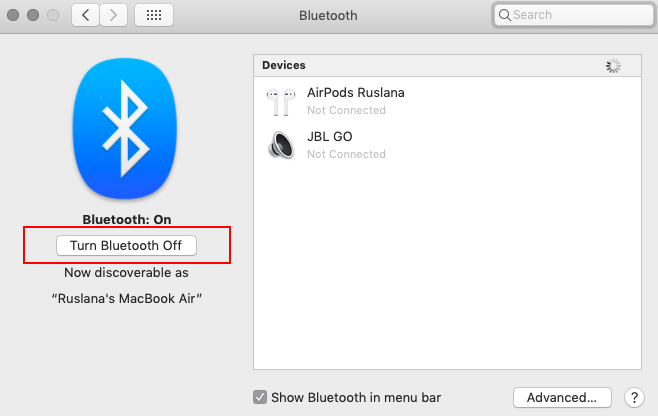 Disconnect the mouse from the Mac—then pair again
If your Magic mouse is losing connection or is still not detected by your Mac after following the tips above—turning it off might help. This trick also helps in many attempts to establish connectivity. To disconnect:
Click on the Bluetooth icon in the menu bar —choose your Magic Mouse
Click on it—choose Disconnect
Pair the device again
Magic Mouse still not working, losing connection, or not recognized? Find out what else you could try to fix Bluetooth connection problems.
Fix: Apple Magic Mouse not scrolling
The fix to this problem is hidden in the System Preferences. When you can't scroll down through a document or a website—it's recommended to check two things.
Firstly, adjust the scrolling speed for your mouse:
Open System Preferences—Accessibility tab
Go to Pointer Control pane—Mouse Options—adjust the scrolling speed to your liking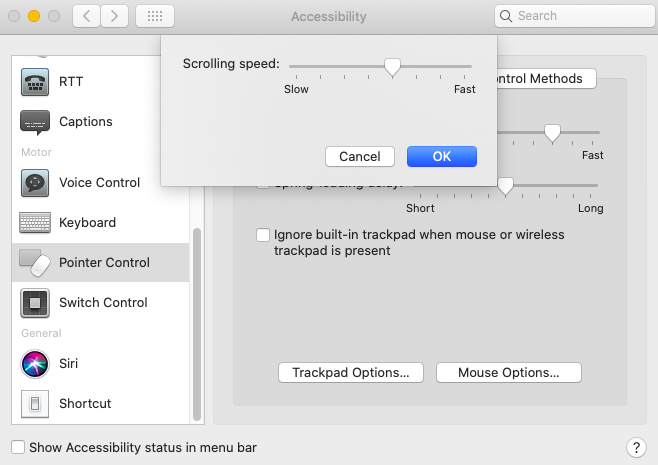 Secondly, learn Magic Mouse gestures:
Go to System Preferences—Mouse tab
Tick Scroll direction: Natural (if you prefer this scrolling direction), choose primary mouse button and other adjusting options for your Magic Mouse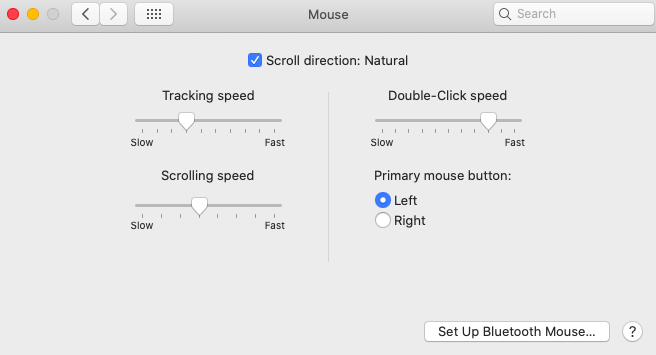 How to reset Magic Mouse
Resetting means that your Mac will forget about all Bluetooth devices ever paired. To reset Magic Mouse:
Click on the Bluetooth icon in the menu bar
Hold down the Shift + Option keys—next, click the Bluetooth icon once again. The drop-down menu will pop up showing hidden items
Choose the Debug option—click Remove all devices
Hold down the Shift+Option keys one more time—click the Bluetooth menu. Choose Debug again—Reset the Bluetooth Module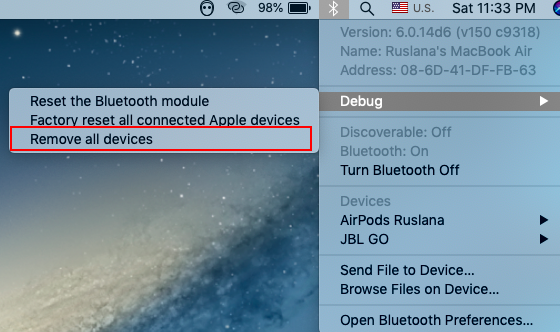 After clearing the Bluetooth System—apply repairing mode for your Magic Mouse 2 to pair it and other devices you have removed by following the provided instructions.
Other ways to fix Magic Mouse
If your mouse can't be detected —try these alternatives to fix the issue with your wireless mouse.
Upgrade your macOS
If Magic Mouse 2 one finger scroll option doesn't work, the solution might upgrade to a newer version. You see, to enjoy all Magic Mouse 2 features, you'll need a higher macOS version. So, for Magic Mouse 2, you'll need to run OS X El Capitan (version 10.11) to enjoy all of its features. For Apple Magic Mouse, OS X Leopard (version 10.5) is enough.
Considering upgrading to the most recent macOS version? Learn how to download and install macOS Catalina on your Mac. And don't forget to free up memory as upgrading to a new macOS may need extra space on your device, as a new version is often more extensive than the old one. Use MacKeeper to help you with the cleaning and preparing your Mac for the latest macOS update.
Set up Magic Mouse preferences
Sometimes default settings for Magic Mouse confuse Mac users. To make the mouse's tracking speed slower or faster, choose scroll direction, or turn on right-click:
1. Go to System Preferences—click on Mouse

Magic Mouse still not working? Sometimes it's harder to fix it on your own, so just refer to the specialists! MacKeeper offers you a team of tech experts available 24/7 via phone or chat. They are eager to help you with any tech issues you may encounter.