Updated: June 23, 2020 | 12 min read
What to Do if Your Apple Keyboard Stopped Working
Ever encountered your Apple wireless or MacBook Pro keyboard not working for no reason at all? How about repairing that non-functioning keyboard? Different types of Mac keyboards require different fix approaches. In this article, we'll show you how to determine the possible reason for this problem and provide you with solutions on:
Navigate to any of these sections to get the answers on how to repair your Apple keyboard.
Before we start

There's nothing embarrassing about asking for help. This applies to dealing with your Mac problems as well — no matter whether it refers to Mac cleaning or other issues. However, if you don't feel you can cope with them on your own, just ask a professional!

We have great news! Instead of devoting your precious time to finding a specialist, just get MacKeeper and chat with our Support Team, who are free 24/7.
Fixes for MacBook Pro keyboard not working issues
MacBook Pro or MacBook Air keyboard not turning on is not the reason for despair. Try these alternative ways:
Clean your keyboard
Hold your MacBook vertically — preferably at a 75-degree angle
Use compressed air. Spray the keyboard or the non-functioning keys. Then move in a left-to-right direction
Rotate your MacBook to its right and then left side — repeat the action
If only some of the keys, for example, copy-paste buttons, are acting up, here's how you can fix it yourself.
Plug in another USB keyboard
Plugging in another keyboard to your MacBook can show you what's wrong. This way you can see if the problem is in the software or the keyboard itself. Anyway, for the time being, you can use an extra keyboard for typing until the problem is resolved.
Update macOS
Updating your current macOS can help with fixing keyboard issues. To update, do the following:
Open System Preferences
Go to the Software Update tab. The system will take care of this and look for updates automatically. Wait for a little bit
Perform actions suggested by the software update scan

By the way, having the newest version of macOS gives you more benefits than mere troubleshooting. Learn what you can get with the recent macOS Catalina.
Delete .plist files
For MacBook keyboard or Trackpad not working issues
Removing .plist files will reset your MacBook keyboard to its factory settings. Before deleting them back up your MacBook with the help of Time Machine. This will be your plan B if something goes wrong.
1. Open Finder — hold down CMD+Shift+G
2. Type in ~/Library/Preferences/ and press Go
3. Look for the following:
Magic Trackpad — com.apple.driver.AppleBluetoothMultitouch.trackpad.plist
wired USB mouse — com.apple.driver.AppleHIDMouse.plist
Magic Mouse — com.apple.driver.AppleBluetoothMultitouch.mouse.plist
com.apple.preference.trackpad.plist
com.apple.AppleMultitouchTrackpad.plist
4. Delete these .plist files
5. Restart your MacBook
Reset your SMC
SMC abbreviation sounds complicated, but we'll try to tell you more about this fixing method. SMC stands for Mac's System Management Controller. When it comes to problems with light and sensor, the battery not charging, or the USB port having a power-related problem — then resetting SMC is a way out. Let's see how to do this on various Macs.
MacBook with non-removable battery
Turn off your MacBook
Hold down Shift + Command (⌘) + Option (alt) keys on the left side of the keyboard and Power button at the same time
Keep pressing these 4 keys for 10 seconds
Release all the keys — wait a bit before turning your Mac back on
MacBook with a removable battery
Do this if you are sure you can remove and reconnect MacBook's battery safely:
Power down your MacBook
Remove the battery
Hold down the Power button for about 5 seconds
Reconnect the battery
Start your MacBook by pressing the Power button
Delete recently installed apps
Why? Recently installed apps may be the real reason for the Apple keyboard not working. Try remembering when the problem began and whether you had installed any new app right before that.
To see recently installed apps:
Open Finder — go to the Applications folder
Use the sort options at the top of this window and sort by Date Added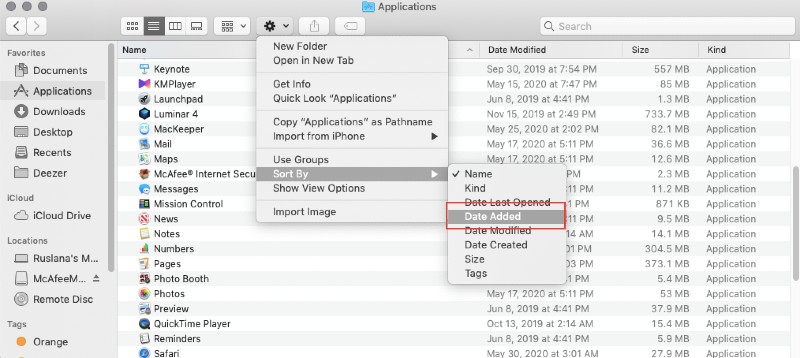 If you have way too many apps and lost count of the ones you need or not — try Smart Uninstaller in MacKeeper! It will not only help you to delete apps. Get rid of unwanted widgets, plugins, leftovers, and browser extensions as well.
Fixing issues with a Mac wireless keyboard
Power issues
First and foremost, this may be because of power issues. If your Apple wireless keyboard doesn't respond:
Check if Bluetooth on your Mac and your keyboard are turned on
Check the batteries. If your wireless keyboard won't connect, check if they are charged. Press the power button on the right side of the keyboard and wait for the green light to appear.
Wireless keyboard won't turn on at all if the batteries inside are flat. Use a small coin on the left side of the keyboard to extract the old batteries and replace them. Check if it works now.
Keyboard still not working after changing batteries? You could try removing and then putting in the batteries once again. Here's the Apple guide on how to change the batteries correctly.
Note: The newly redesigned Apple Magic Keyboard has a built-in lithium-ion battery. Two hours of charge is enough for about a month of active usage. To turn it on, use a switch on the back.
Bluetooth connection issues
Bluetooth troubles on your Mac could be the reason for your wireless keyboard having connectivity issues and playing tricks on you. If your keyboard won't connect, start with checking System Preferences.
Click the Apple logo — System Preferences
Navigate to Bluetooth settings and check if the Bluetooth is activated. If your Bluetooth keyboard is paired with your Mac, it should be listed under Devices
Control + Click on the keyboard and click Remove. Then hit Set up Bluetooth keyboard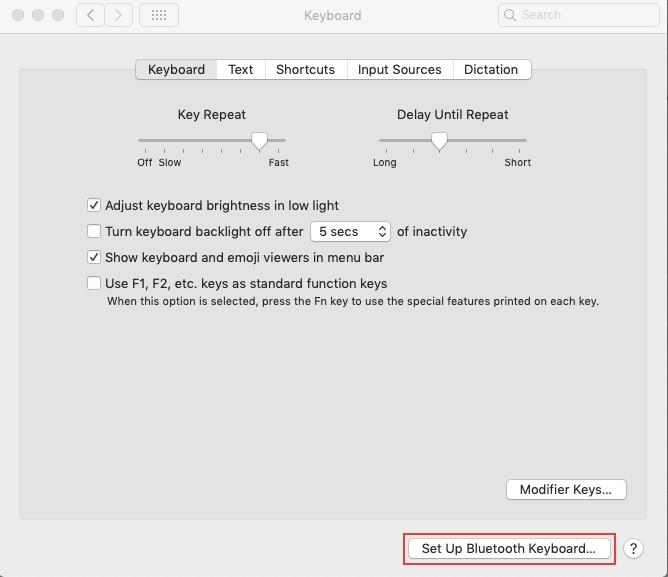 Clean your Apple wireless keyboard
Turn off your wireless keyboard and remove the batteries
Clean the surface of your keyboard by using a lint-free cloth. Moisturize it a bit with water. Avoid getting moisture in any openings or using aerosols, solvents, abrasives, or cleaners containing hydrogen peroxide. If you happen to have a Magic Mouse and it is acting up — try reading this article to find out how to fix it
Reset your SMC
Desktop Mac
Shut down your Mac. Click on Apple logo — Shut Down
Unplug your Mac's power cord. Wait for 15 seconds
Replug your Mac
Press the power button to start up your Mac
What else can you try?
Assuming you've already checked the power, replaced batteries, troubleshoot the Bluetooth, and you're still out of luck, there are several things to try:
Restart your machine first
Type in your user name in the login window. If you have more than one user account, try to log in to a different one and see if it solves the issue
Fixing issues with a Mac USB keyboard
Assuming that you haven't spilled out a cup of morning coffee on it or smashed it, basic troubleshooting can possibly solve the issue.
Mac wired keyboard troubleshooting
Here is what you should try:
"Check the power" phrase may sound too obvious, but it's your first checkpoint, no matter what happens to your Mac USB keyboard. If the keyboard was accidentally yanked out by your housekeeper or a pet, all keys would stop working. Take a look at the back of your desktop computer and make sure that the keyboard is plugged into the iMac
Switch to another USB port. There's a chance that one of the USB ports is malfunctioning. Connect your keyboard to another port and check if it works
Restart your computer. Yes, it sounds like a solution to every Mac problem, but it works. Click the Apple logo — choose Restart
Log out of your current user account — log in to a different one to see if the problem was fixed. Click on the Apple logo — choose Log Out
Tip: Press the keyboard's Caps Lock button and wait for the light to turn on to check if any of these methods worked. Try typing something in TextEdit or Notes.
Is there any chance to fix a damaged Mac keyboard?
The answer to this question depends on the cause. If you smashed the keyboard, the chance of making it work again is quite slim. The only remaining option is to grab your wallet and order your brand new Apple keyboard.
Another thing is when you were out of luck and spilled some coke on the keyboard. Moisture on the keyboard can get to the circuitry and cause corrosion, so try to react as quickly as possible.
Here is what you can do with the liquid-damaged keyboard:
Unplug or turn it off
Turn the keyboard over and blot the keys
Blow compressed air on it
Leave the keyboard to dry for 6-12 hours
Check if it works
Unfortunately, the previously mentioned steps do not work for the liquid-damaged keypad of your Mac laptop. The only remaining option is to take your MacBook to the Apple Store as soon as possible to evaluate the level of damage.
We hope you've determined the reason for your Mac keyboard not working and the solution provided in this article helped you out!