Mac Tips
Updated: July 21, 2020 | 5 min read
Copy & Paste Acting Up on a Mac? Here's How to Fix It
Restarting the machine seems the most obvious workaround when copy/paste isn't working. This is true—restarting a Mac targets the clipboard daemons and forces them to relaunch. However, it's not always suitable. Imagine you're chatting with your potential employer and suddenly copy/paste fails—no time to restart your Mac.
Luckily, there are other ways to fix this problem. Let's see what we can try.
Fix the copy and paste not working with Activity Monitor
Activity Monitor is a silver bullet when it comes to Mac troubleshooting. The best thing is that this utility can fix Mac copy and paste issues. All you need to do is to quit and relaunch the pboard process directly from Activity Monitor. Here's how:
1. Quit all the apps where copy/paste doesn't work properly
2. Open Finder—go to Applications—then Utilities—look for Activity Monitor. Alternatively use Spotlight to open Activity Monitor
3. Type pboard in the Activity Monitor search bar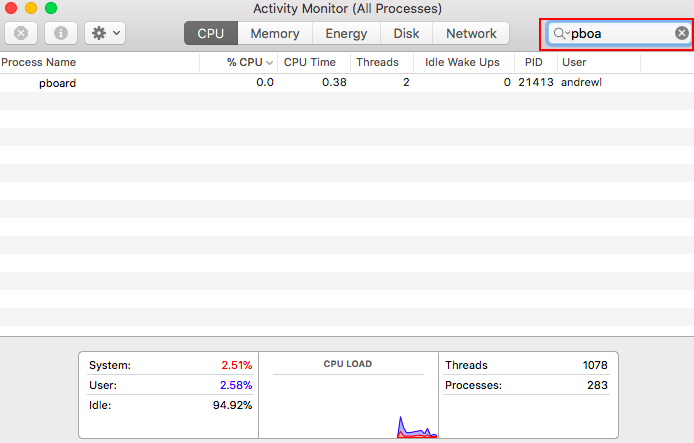 4. Click on the pboard process and hit the X button from the toolbar in the right upper corner of the window
5. Click the Force Quit button
6. Close Activity Monitor
Now check if you can use copy/paste. Open the app where Command (⌘) + C and Command (⌘) + V weren't working and use these shortcuts. Do copying and pasting text work properly? If yes— you saved your time and fixed this issue without restarting your Mac!
Fix the clipboard with Terminal
If you're an advanced macOS user who knows what the Terminal app is for, you may use it as an alternative way to fix the copy/paste issue. The Terminal app can help you quit the process responsible for clipboard activity, and you can do it in three easy steps:
1. Launch the Terminal app. Go to Finder—Applications—Utilities. Or use Spotlight to find it
2. Type in killall pboard in the Terminal command line
3. Hit the Enter key
How to enable copy and paste on a Mac
The fastest ways to copy and paste on your Mac are:
1. By using keyboard hotkeys: use Command (⌘) + C and Command (⌘) + V. Highlight some text or an item—press Command (⌘) + C hotkeys to copy—open the folder or a document—press Command (⌘) + V to paste
2. By using a mouse: highlight the text or item you need to copy. Right-click it—choose Copy from the drop-menu. Go to the folder or document—right-click in that window—choose Paste from the drop-down menu. This method can be used when your Magic Mouse is acting up, too.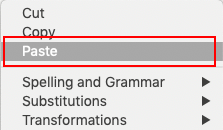 And did you know that you can also copy/paste by using menus on your Mac?
That's basically it. Both these troubleshooting ways should easily relaunch the clipboard's daemon processes and fix the annoying copy/paste issues. It is up to you to decide which troubleshooting way to use.
If you see that copy/paste is not the only combination not working on you Mac—try rebooting your Mac.