Sometimes, out of the blue, your Mac will just freeze, your apps won't respond, and you'll start feeling yourself increasingly irritated. Don't panic, it's not that big of a deal. In fact, it can be easily fixed using one of the numerous methods that we will discuss in this article.
But first, why does your Mac freeze in the first place? Your Macintosh stops responding when there are a lot of commands piled up and your computer just doesn't have enough capacity to run all those apps.
Another common reason for a Mac hanging up is excessive heat. To help prevent it, check our article on how to stop your Mac from overheating.
So how to fix it?
You have to force close the non-responding apps and you can easily do so by using one of the following methods:
Force quit using the Apple menu
Force quit using keyboard shortcuts
Force quit using the Activity Monitor
Stop apps that won't force quit with special tips
1. Force quit from the Apple menu
To force quit an app on a Mac:
Click the Apple logo in the upper left corner of your screen to open the Apple menu
Select the Force Quit option from the drop-down menu
You should see the list of currently active apps. Select a frozen app and click Force Quit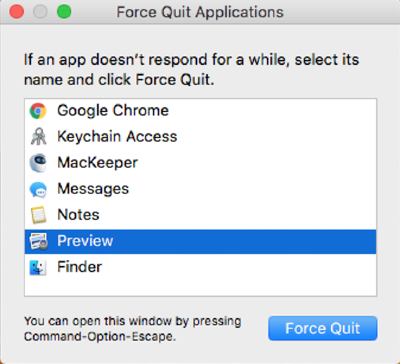 2. Force quit from the Dock
Active application's icon is usually placed on your Dock panel. You can easily force quit the non-responding application on a Mac from there. How can you do this? There's no magic here.
To end a task on a Mac:
Find the frozen app's icon and right-click it (or click with the Control key pressed).
Next, press the Option key and choose the Force Quit option that pops up.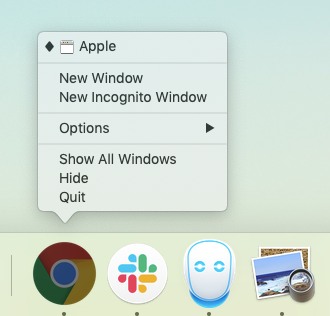 3. Force quit using the Mac keyboard shortcut
The easiest and probably the fastest way to access the Force Quit menu on a Mac is to use a special key combination.
All you need to do to force quit a program on a Mac:
Hold down the Command (⌘) + Option/Alt (⌥) + Esc keys simultaneously to open the Force Quit menu
Next, select the app you want to quit
Click the Force Quit button and you are done!
Sometimes, when your Mac freezes your keyboard stops working, too. Luckily, it's fixable—just check this article on how to fix a keyboard that stopped working.
4. Force quit from the Activity Monitor
This is a more advanced yet still a fairly easy way to force quit the app on a Mac. Even if you're new to Macs, you've likely heard of the Activity Monitor app.
If the app isn't responding, you may check how it is using your system resources.
Open Activity Monitor using the Spotlight search
Go to the CPU tab
Find the app you need to quit from the list.
Highlight this app and click the X button in the upper left corner of the Activity Monitor window.

5. Force quit using the Terminal
Alternatively, you can force quit the frozen app using Terminal command. This step is for advanced Mac users who are familiar with shell commands.
Start by searching for the Terminal in the Spotlight search window and launch the Terminal app
Type in: killall application name
For example, if the Preview app doesn't respond, type in killall Preview
Hit the Enter key

It's important to mention that when you use the Killall command, the auto-save function won't work and you will lose your saved data. Thus, make sure to use this method carefully.
FAQ
1. How do you restart a frozen MacBook Pro?
If your MacBook Pro stops responding and none of the previous methods seem to work for you, then your best shot is to force your Mac to restart.
You can use either of the following methods to restart your MacBook:
Hold Command (⌘) + Control + Power button keys simultaneously to restart your Mac
Hold the Power button to shut down your Mac, then restart it
2. How do you stop an app that won't force quit in MacBook Pro?
If your Mac isn't responding, then there are a few tricks you can do to unfreeze it:
Wait for a few minutes. Sometimes your Mac can have a lot of tasks to perform and simply needs some time to work through them
Force quit apps that consume your memory
If force quit is not working, then it's time to restart your Mac
3. What happens if your force quit Finder?
Don't worry, nothing bad would happen if your force quit Finder. In fact, you can easily close it by any of the previous methods discussed in this article.
Now you know all the ways to force a non-responding app to quit. Hopefully, your Mac will run smoothly and you'll rarely use these tricks.
Read more: