Mac Tips
April 07, 2020 | 6 min read
Simple Guide on How to Reset your Mac to Factory Settings
When selling, trading in or giving away your Mac, you need to do more to guarantee your personal security than simply deleting your files and calling it a day.
We have a solution! To ensure no personal data is available to anyone else, you can download MacKeeper, which will help you to clean your Mac as if it's brand new.
For extra security, it's crucial to back up all your files before restoring your MacBook to factory settings. That way you'll be able to make sure that none of your personal details are compromised while your Mac is fully prepared for the new owner.
How to back up your Mac
The easiest way to create a backup of all your files before wiping a Mac is to copy your system with all its components. It is best to use Time Machine, a built-in MacOS utility that will do all the heavy lifting for you. Using this service means you won't have to manually import the files to another physical drive. When you're up and running on your new Mac, you can restore everything in a snap.
How to reset your Mac to factory settings
Note: the following sequence is applicable to both MacBook Air and MacBook Pro.
Plug in your power adapter. Then follow our guide once your system is copied, and you've logged out of your accounts and services.
1. Restart in Recovery mode
Before you wipe your Mac and erase any hard drive data, the first thing you need to do is start up from the Recovery mode. To do this, click on the Apple logo in the top left corner of the screen and choose Restart. When your Mac shuts off and powers back on, press and hold the Command + R keys until you see the Apple logo. Then release the keys and proceed to the next step.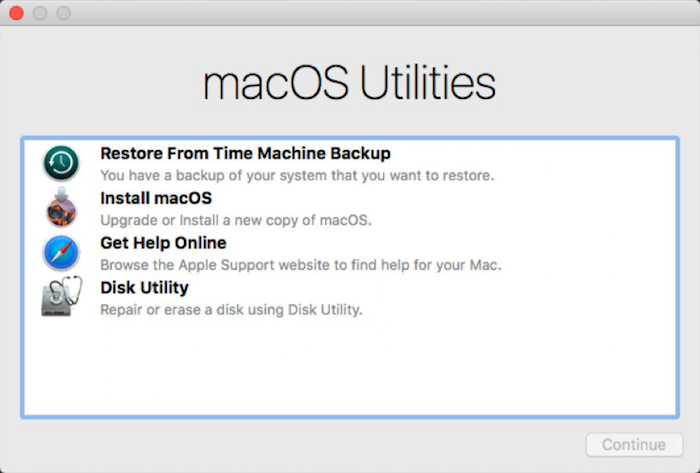 2. Erase data from Mac hard drive
While in Recovery mode, you won't see your usual login screen. Instead, you'll see the macOS Utilities window. Here are your next steps to wipe a MacBook Pro or MacBook Air:
a. In the macOS Utilities window, choose Disk Utility and click Continue.
b. Choose your startup disk and click Erase.
c. Choose Mac OS Extended (Journaled) as the format.
d. Click Erase.
e. Wait until the process is finished. When it's done, go to the Disk Utility menu at the top, then quit Disk Utility.
3. Reinstall macOS (optional)
Now, with your hard drive completely erased and free of any data, you can perform a clean install of macOS. You can do so while your Mac is still in Recovery mode. From the same macOS Utilities window, choose Reinstall macOS. Consider installing the latest macOS Catalina.
It is also worth pointing out that reinstalling macOS does not necessarily mean resetting your Mac to its factory settings. This is just a general recommendation. If you're giving your Mac to someone else to enjoy, you may as well just leave it as is so the new owner can set it up as they like.
Congratulations! You have successfully restored your Mac to factory settings and your computer is ready to go.
Don't forget, you can use these instructions if you're selling your Mac or if you want to erase your startup disk to reinstall macOS. If you plan on keeping your Mac, you might be interested in our guide on how to make a bootable macOS installer.